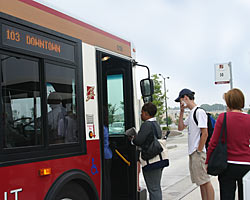 Travel Demand Forecasting Model
The travel demand forecasting model combines land use and demographic data with travel patterns to identify deficiencies in the transportation network. The primary output of a travel demand model is the assignment of traffic volumes to all roadway segments in the network. The model will be used to evaluate alternative transportation investments and land use policies.
Capital Cost Model
The capital cost model will be consistent with recent Gwinnett project development experience. The level of effort and amount of detail will be sufficient to produce conceptual level Present Day Cost estimates that show differences among alternatives within acceptable levels of confidence.
In addition to direct costs, indirect costs associated with the construction and implementation of the proposed alternatives will be included in the capital cost analysis to the greatest extent feasible. Capital costs in the model reflect recent construction trends and unit costs observed in the Atlanta area (heavily weighted by Gwinnett County experience) and actual experiences of other transportation agencies in the Atlanta Region construction and implementation.
Operating Cost Estimating
Consistent with recent Gwinnett County operating costs, an operating cost model to estimate the annual operating and maintenance costs associated with both highway and transit elements of the alternatives to be studied will be developed.
Scenarios
A series of model refinements to facilitate their integration and coordination and the use in the later stages of the project to test the scenarios and other plan policies will be developed. Such refinements and integration are crucial to the scenario building and testing process. The scenarios themselves can be designed to address the expected system deficiencies as well as address a full range of other County development objectives.