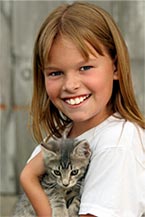 The Gwinnett County Animal Shelter takes in approximately 7,000 to 8,000 animals annually. Most have strayed from their homes or been abandoned. In 2015, approximately 88% of the animals impounded by the shelter were adopted, rescued, or reclaimed by their owners. Adopting an animal from the shelter can literally save its life, and pet adoptions are relatively inexpensive. Animals, including those with special needs - injuries or illnesses that require extra care - bring great joy to the lives of their owners.

The Animal Shelter may offer for adoption any animal of unknown ownership after having held the animal for three (3) days during which the shelter is open to the public. If the owner is known, an animal will be held for a period of ten (10) calendar days, as provided in section I0-35(a). If an animal is voluntarily surrendered to the Animal Shelter by its owner, the animal may be offered for adoption or rescue immediately. The frequency with which animals may be adopted and placed in any household may be restricted, in order to ensure that the animals are going to good homes.
To adopt a pet, you must be at least 18 years of age (ID required), and you must pay the required adoption fee.

The shelter often houses a surprising number of purebred animals. In addition, we are able to put citizens in contact with individuals or rescue groups who might offer assistance with locating specific breeds of animals.

People rarely bring fish, birds, ferrets, hamsters, gerbils, guinea pigs, or reptiles to the shelter, but the same procedures apply to all animals.

We urge you to visit the Gwinnett County Animal Shelter and consider adopting a pet. Animals are available for adoption during regular kennel hours and various special promotions.