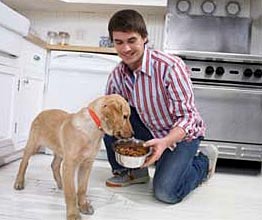 When you adopt a pet from the Animal Shelter, you're adding a new member to your family. Caring for your new pet is a big responsibility but also a great joy.
Food and water are the basics for all living things. A veterinarian can advise you on the proper kind, quantity, and feeding schedule for your new pet. Your vet can also provide shots and medications needed to prevent things like rabies and heartworms. Gwinnett requires dogs and cats to wear rabies tags.
Cats will need a clean litter box from day one, and a cat carrier will be very useful since most cats don't enjoy car rides. Big dogs need exercise and love to go for walks. You'll need a leash and collar. When you have to travel and leave your pet behind, you'll need a place to board your pet or a pet sitter to come to your home at least daily.
Most dogs and cats are remarkably healthy by human standards, but injuries do happen and older animals may need special medical attention. Georgia winters get cold enough that you will need to provide warmth and shelter for an outdoor pet.
Animals that go outside frequently often bring fleas inside where they multiply rapidly in carpets, furniture, or bedding. Fleas are hard to see and people often aren't aware of them until they notice tiny bites around their ankles. Vets have various flea treatments available and pest control companies can treat carpets and other hiding places.
Most dogs and cats will respond to the gift of your time and attention by becoming your most loyal fan and helping you reduce the stress in your life. Studies have shown that people are healthier and live longer when they spend time with a pet.