Gwinnett County Senior Services
Gwinnett County Senior Services provides a variety of programs and services for our seniors, designed to enhance the quality of their lives and maintain their independence. These services also assist the families of seniors with their caregiving duties.
Gwinnett County's Senior Services are open to all Gwinnett residents ages 60 and older. Some programs offered are based on a sliding fee scale depending on their income.
Information and Assistance
This is a free service which provides seniors and their caregivers answers to questions about senior issues. It offers up-to-date information on housing, nutrition, social security, legal aid, counseling, education, recreation, rehab services, health care, Medicare and Medicaid, adult abuse and neglect, nursing homes and much more. Call

678.377.4150

Monday through Friday from 8:00am to 5:00pm.

If you would rather speak to someone in person, please visit the Gwinnett Senior Services Center at 567 Swanson Drive, Lawrenceville, GA 30043.



Care Management
Care Managers are available to meet with individuals and families to evaluate, educate, and determine needs for services, explore potential resources, and help seek other funding options. The goal is to develop a plan to support the client and/or caregiver for the senior to live at home independently and safely and to prevent the caregiver from becoming overwhelmed.


In-Home Services
Home Delivered Meals
This service assists seniors who are homebound or unable to prepare their own meals. Meals on Wheels delivers frozen, chilled, or hot meals on a regular basis Monday through Friday. The meals are tailored to meet the nutritional needs of seniors. For inquiries about eligibility to receive meals, call

678.377.4150

. For information on becoming a Meals on Wheels volunteer, call

678.377.6716

.

Homemaking
This service helps to meet life's basic needs through light housekeeping. For information, call 678.377.4150.

In-home Respite Care
The Respite Program is designed for those with or without dementia. It provides caregivers of seniors a break from caring for their loved ones. For information, call 678.377.4150.



Centers
Centers are located in Buford, Centerville, Lawrenceville, and Norcross. The centers function as community gathering places for adults 60 and older. Seniors participate in daily planned programming activities such as exercise and dance classes, arts and crafts, table games, billiards and day trip excursions. The centers host various guests who perform and entertain or speak about medical, financial, and consumer issues important to seniors. Senior clients also receive hot, balanced lunches Monday through Friday. There are no membership fees but some classes and day trips may have small fees.
Buford
Buford Senior Center
2755 Sawnee Avenue
Buford, GA 30518
678.225.5367

Centerville
Centerville Senior Center
3075 Bethany Church Road
Snellville, GA 30039
678.277.0230

Lawrenceville
Lawrenceville Senior Center
225 Benson St
Lawrenceville, GA 30046
678.277.0970

Norcross
Norcross Senior Center
5030 Georgia Belle Court
Norcross, GA 30093
678.225.5430
Transportation
Limited transportation is available to seniors who need assistance commuting to and from senior centers, medical appointments, and treatments. Vehicles used to transport seniors are wheelchair accessible. For information, call 678.377.4150.
Get In Gear
Get In Gear is a transportation voucher program for seniors and disabled persons. Transportation providers are needed to serve the Gwinnett County area.

For more information about becoming a transportation provider, click here.

If you would like to be considered a transportation provider, please fill out the service provider form.
To speak with someone about Get In Gear, please call 678.377.3019.
Support Our Seniors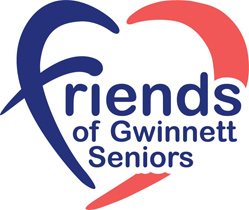 Friends of Gwinnett Seniors
Friends of Gwinnett Seniors, a 501(c)(3) volunteer-governed nonprofit,
raises funds to support Gwinnett County senior programs. For more
information, including how to make a tax-deductible donation, visit
Friends of Gwinnett Seniors at www.friendsofgwinnettseniors.org.
Volunteer
Click here to learn how to volunteer.

Frequently Asked Questions
Click here for a list of frequently asked questions.