Run Fur Their Lives 5K and Kitty Crawl Fun Run Registration Open!
Announcing the 2nd Annual Run Fur Their Lives 5K and Kitty Crawl 1 Mile Fun Run! Come out and help the Gwinnett County Animal Welfare and Enforcement Center kick off the ASPCA Rachael Ray $100K Challenge by participating in this fun event! The race will be held at Tribble Mill Park on June 1, 2014, and the start time is at 7:30am. The race will start and finish near the Holly Pavilion. The course will be on paved trails inside the park. Dogs are welcome but must be on a short leash, vaccinated, and well behaved. There will be a large kickoff festival after the race at the shelter. More details to follow!
Finish line management and results will be provided by Classic Race Services, and the race is a part of the Black Bag Race Series. Early bird registration is $25. After May 23, 2014, and up to race day, registration will be $30. Race day registration will end at 7:15am. To register now, click on the link below or go to www.active.com and search for "Run Fur Their Lives." Shirts are guaranteed to those who register by May 23. Registrations received after that date and on race day will receive shirts while supplies last. Refreshments will be provided. Awards will be given to the Overall Male/Female, Masters Male/Female, and 3 deep in age groups beginning with 10 and under to 75 and over.

To register click on link below:
http://www.active.com/lawrenceville-ga/running/distance-running-races/run-fur-their-lives-5k-and-kitty-crawl-fun-run-2014
Announcing The ASPCA Rachel Ray $100K Challenge!!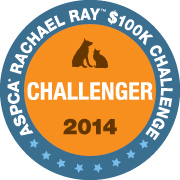 We are proud to announce that Gwinnett County Animal Welfare & Enforcement has been accepted and is officially a competitor in the 2014 ASPCA Rachel Ray $100K Challenge!! The $100K Challenge is a contest in which 50 shelters across the country compete to break their own records saving the lives of animals. Throughout the months of June, July and August 2014, each competing shelter must save more dogs, cats, puppies and kittens than they did during the same three months in 2013!! We are EXTREMELY excited to be accepted as the only Challenger in the State of Georgia and we look forward to all the animals that will benefit from this awesome challenge!! Many, many more details to come so keep an eye out!!

For more information on the ASPCA Rachel Ray $100K Challenge, visit the website at http://www.challenge.aspcapro.org/!!
Animals available for adoption
Let's Play the Name Game!!
Let's play the name game! Thanks to a group of dedicated volunteers, we are playing the name game and giving all of our animals a name of their own!

In the "Animals Available For Adoption" section, you will see that some of the animals already have a name! This could be a name from a volunteer or a name the animal already had. Under each animal you will see a pen number, the animal's name, and the possible breed. You might also notice that some of the animals do not have names. Since this is a fresh new idea at the shelter, we will begin naming the new animals as they come in. Over the next few weeks, we will name all of them! If you have a question about the animal, please provide both the pen number and the name when you call or come in.

Are you ready to play the name game?
Announcing Paws and Pages!!
Announcing Paws and Pages Drop in Reading Session with Therapy Dogs!!  Bring your kids to the Animal Shelter on Saturday April 19, 2014 from 11:00am to 12:00 noon to read with some awesome therapy dogs!  One of the dogs that will be there is Crash Dog who came from the Gwinnett County Animal Shelter!! Crash Dog is awesome and so are his friends that will be there!! Children of all reading levels and abilities are invited to sit and spend some time sharing a story with a furry friend!!
This is not a one-time event!! Reading sessions are planned every month on the third Saturday of that month.  No advance registration needed.  Children wishing to participate should not be allergic to or fearful of dogs.  They must be able to quietly sit for a 10-15 minute reading session.  Handlers are all volunteers and their dogs are registered, certified and insured through Therapy Dogs International www.tdi-dog.org.
Tip of the Week - Help Your Pet Find Their Way Home!!
This "Tip of the Week" comes from Home Again.  Home Again is the company that provides microchips for all the animals that are adopted at the shelter.  1 in 3 pets goes missing during its lifetime, and without proper ID, 90% never return home. A microchip for dogs & cats gives the best protection with permanent ID that can never be removed or become impossible to read.  It also is another way of providing proof of ownership.
Dog and cat microchipping is a simple procedure. A veterinarian simply injects a microchip for pets, about the size of a grain of rice (12mm), beneath the surface of your pets skin between the shoulder blades. The process is similar to a routine shot, takes only a few seconds, and your pet will not react any more than he would to a vaccination. No anesthetic is required.
A microchip is permanent pet ID. The microchip itself has no internal energy source, so it will last the life of your pet. It is read by passing a microchip scanner over the pets shoulder blades. The scanner emits a low radio frequency that provides the power necessary to transmit the microchips unique cat or dog ID code and positively identify the pet.
Put your pet's safety first. A tiny microchip, about the size of a grain of rice, helps keep you connected to the pet you love, forever.  Contact your local veterinarian and get your pet microchipped today!!
For more information about Home Again, visit their website at www.homeagain.com.
Gwinnett Animal Shelter Hours and Location
Click here to view the shelter hours of operation and location.


Support the Animal Welfare & Enforcement Shelter
Support the Animal Welfare &
Enforcement Shelter with a tax-deductible contribution


Need Advice?
Click here for numerous Pet Behavior Tip Sheets.  These tip sheets cover many common problems of pet ownership and are provided by The Humane Society of the United States.  Topics include Barking Issues, Housetraining Your Pet, Fearful Cats, Kitten Development, Selecting The Right Pet For Your Kids, and many more topics. Check it out!


Volunteer at the Animal Shelter
Spay and Neuter Information
Rabies Alerts
What does a rabid animal look like?
Rabid animals may act tame. They may also display strange or unusual behavior. They may act aggressive, avoid food and water, foam at the mouth, or have trouble moving. Stay away from any unknown animals, especially wildlife. Report any animal acting unusual to Gwinnett County Police Animal Welfare and Enforcement at 770.513.5100.

How can I help protect myself and my family from rabies?
Make sure your pets get their rabies shots regularly
Keep your pets on your property
Do not leave garbage or pet food outside. Food left out may attract wild or stray animals
Stay away from wild, sick, hurt, or dead animals. Do not pick up or move sick or hurt animals. If you find a wild, sick, or hurt animal, call Gwinnett County Police Animal Welfare and Enforcement at 770.513.5100
Do not keep wild animals like raccoons, skunks, foxes, and coyotes as pets. It is dangerous and also illegal
Teach your children not to go near, tease, or play with wild animals or strange dogs and cats
Contact Information
Chip Moore, Manager
Chip.Moore@Gwinnettcounty.com

Monica Peete, Open Records Requests Only
Monica.Peete@gwinnettcounty.com

Rescue Officer
AnimalRescue@gwinnettcounty.com

Emergencies
To report an animal bite: Call 911 for medical attention first. The 911 operator will call us about the animal. To report cruelty cases or an injured, sick, or vicious animal call us at 770.513.5700.

Complaints
To file a complaint (barking dogs, etc.) call 770.339.3200 during regular office hours.

Pet Listings
To see pictures of some of the many dogs and cats who need a good home right now, click in the left navigation bar.

Lost Animals
To reclaim your lost pet from the Shelter, bring identification (drivers license or Georgia ID) and proof of ownership, such as vet records.

Lost or Found
To report a lost or found animal, please complete the form below and send the information and photo to our Lost/Found e-mail: AnimalWelfare@gwinnettcounty.com. The notice will be posted in the shelter.

Please remember that it is still your responsibility to come to the shelter and look for your lost pet. Strays are held for a minimum of five days and then may be offered for adoption, rescue, or, in extreme cases, euthanized. The website and the lost/found directory are only updated Monday through Friday so it is preferable that you visit the shelter to look for your pet.




When you locate your pet, please call the shelter at 770.339.3200 so we can remove your lost notice. Otherwise, the flyer will be pulled after 30 days.

Please always insure that your pet is properly identified with a collar and tag and/or a microchip!