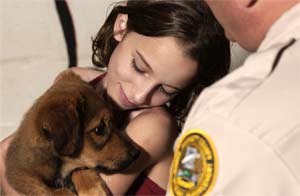 The Animal Shelter takes in about 15,000 animals every year. Most have either strayed from their homes or been abandoned. About a third are adopted, rescued or reclaimed. Adopting an animal from the shelter can literally save its life, and our adoptions are relatively inexpensive. You may visit and adopt animals during kennel hours or at special promotions.
After five days, stray animals become County property and available for adoption. During the holding period, you can sign up to adopt when they're available. Animals turned in by their owners are available immediately. We hold all healthy, non-aggressive animals for as long as we have the legally required space for additional strays.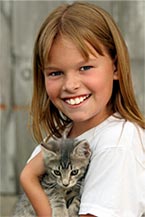 To adopt a pet, you must be at least 18 (ID required), pay an adoption fee and sign a legally binding contract to have the animal spayed or neutered if not already done. We accept personal checks drawn on local banks, debit cards, credit cards, and cash. We limit the number of adoptions by any one household and take other precautions to ensure that our animals are going to good homes.

We get a surprising number of purebred animals, but we can also help you contact individuals or rescue groups that may be able to help you find a specific breed. People rarely turn in other animals, such as fish, birds, ferrets, hamsters, gerbils, guinea pigs, and reptiles, but the same procedures apply.

We urge you to consider adopting a special-needs animal - one with an injury or illness that requires extra care.