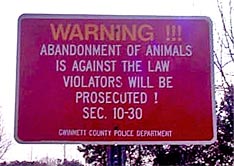 **Please note, the new Gwinnett County Animal Control Ordinance that was passed in 2015 has not been uploaded to Municode. Please visit the main page of this site and scroll to the bottom of the page. There you will find a current, updated copy of the complete 2015 Ordinance.
Gwinnett County's municipal codes and ordinances are located on an external site called Municode that is maintained by The Municipal Code Corporation.
Click here
to visit the Gwinnett Animals Section of Municode.