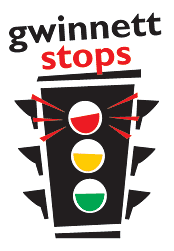 Red light running results in more than 800 deaths per year nationwide, and more than 200,000 people are injured as a result of failing to stop at the red traffic signal.
Red light violations result in a high number of preventable collisions, pedestrian injuries, fatalities, and property damage causing a significant increase in auto, health, and property insurance premiums. The resultant accidents and injuries cause social disruption, lifestyle changes, and general increases in community expenses.
To combat the problem of red-light running in Gwinnett County, officials have implemented Gwinnett Stops, an automated enforcement program designed to reduce the occurrence of accidents, injuries, and fatalities that result from red light violations.
Gwinnett Stops is designed first and foremost to ensure the safety of Gwinnett citizens and improve the quality of life in Gwinnett County. The cameras will supplement police enforcement and allow their focus to be on other crimes. Traditional enforcement is time-consuming and creates a safety hazard when police chase violators through a red light.
Fore more information, visit https://www.violationinfo.com/.