Dry Weather Sampling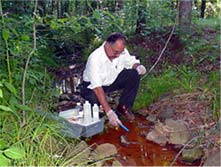 Dry weather sampling is one method used to identify illicit discharges to the streams. The water quality is sampled during dry weather at locations, called outfalls, are where the county maintained system discharges into waters of the state. Outfall sampling locations are identified as pipes larger than 36" in diameter with no ditch systems above the pipes. Ditch systems can not be located above the pipes since they are waters of the state and are not maintained by the County. Sampling is done during dry weather to help identify non-stormwater discharges. Dry weather screenings are done as a part of the regular monitoring program and in response reported releases. Annually, about 85 dry-weather screenings are preformed.
If dry-weather flow is found, observations, field (Hach) testing for pH and chlorine, and lab sample testing for phenols, detergents, and copper are done on the flow. When responding to a reported release, an investigator inspects the site for the reported release and field (Hach) testing and lab sample testing are done if needed. In some cases where toxic or hazardous material release is suspected, additional, more specific sampling and testing is performed. If the problem is associated with an industry, it is turned over to the State. If the general public is involved, we contact them and get the problem area cleaned up.
Long Term Trend Monitoring Stations
The County has 12 long-term trend monitoring sites to monitor the effectiveness of the storm water management program in addressing non-point source pollution. The sites are located need the county's border on Richland Creek, Level Creek, Suwanee Creek, Crooked Creek, North Fork Peachtree Creek, Yellow River, No Business Creek, Big Haynes Creek, Brushy Fork Creek Alcovy River, Apalachee River, and Wheeler Creek. Sampling of storm water at six of the wet-weather long-term trend monitoring stations has been done since 1996. Six additional sites were added to our monitoring network in 2001. Equipment at the existing long-term trend monitoring sites was upgraded to include continuous flow and rainfall data in 2001. The U.S. Geological Survey (USGS) continues to work with the County to provide services to upgrade, operate and provide reports for our long-term trend monitoring sites. The equipment is linked via satellite to the
USGS web site
, and the data on the site is continuously updated. See Trend Monitoring Sites for location.
The long-term rainfall and runoff relationships are also being monitored. The USGS currently operates a network of 17 flood gauging stations throughout the County under a contract renewed annually. See Flood Gauging Station for locations. The county maintains daily rainfall gauges at 23 locations. See Rainfall Gauges for locations.
TMDL Monitoring Program
As part of Gwinnett County's Total Maximum Daily Load Program (TMDL), we have been implementing a fecal coliform sampling program. This program requires that samples be collected weekly so that we have four samples a month to determine a geometric mean. The program was implemented on the Alcovy River and the Yellow River, resulting in the Alcovy River in Gwinnett County, and the Yellow River in DeKalb County being removed for the 303d list.
For more information on TMDL's click here.