For one of the first times since its inception in 2001, Gwinnett County Transit (GCT) has initiated a Comprehensive Transit Development Plan (CTDP) to review all fixed route and paratransit services. This Connect Gwinnett: Transit Plan will culminate in short-, medium- and long-term plans constrained to identified current and future funding sources and vetted through a broad community outreach effort.
Connect Gwinnett will take a comprehensive look at the future of transit in the County to best position the system for success. Currently, GCT is made up of six local routes and five express routes; the plan will examine the existing system and identify future needs.

Get involved and help Connect Gwinnett by completing a survey about the future of transit in Gwinnett County. This survey will help inform the planning team of the needs and desires of the public. Additional information about the Connect Gwinnett: Transit Plan can be found through the links to the left. To take the survey, click here or on the image below.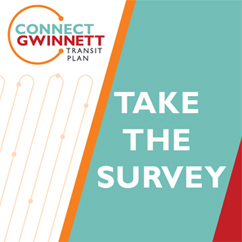 Use the Dropdown Box to change language