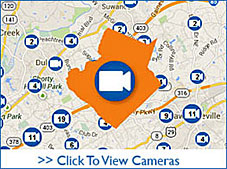 Do you ever wish you could see what the traffic is like before you get in your car to leave your home or office? Now you can access this information to plan your route. The Gwinnett County Department of Transportation offers a resource that lets Gwinnett residents view real-time traffic along major corridors through GC Smart Commute. You can access snapshots of current traffic conditions simply by clicking the map to the right. Then, select a camera icon in the area of interest.

This information is available thanks to the County's traffic control network along Gwinnett's most heavily traveled corridors. The snapshots are updated every two minutes to bring you the most up-to-date road conditions.

Please note that Gwinnett County does not record or retain snapshots or video feeds.