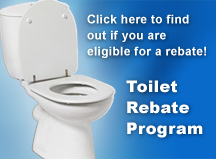 Toilet rebates: Thanks to a measure approved by the Gwinnett Board of Commissioners, Gwinnett water customers can get a rebate for replacing the toilet/toilets in their single family residential home.
Beginning January 1, 2019, the rebate structure will be modified:
Only WaterSense labeled toilets using 1.1 gpf or less will be eligible for the $100 rebate. A $50 rebate will be available for all other WaterSense labeled toilets greater than 1.1 gpf.
All eligible applications postmarked by December 31, 2018 will qualify for the $100 rebate if the toilet is WaterSense labeled 1.28 gpf or less.
Only single family residential homes built before 1993 are eligible for the rebate for a maximum of two toilets per household. Also, only toilets purchased after September 28, 2007, are eligible for the rebate. The rebate is a lump sum amount as stipulated above and excludes the Georgia sales tax, additional installation parts, or labor costs.

Details of the program and applications can be found on the Metropolitan North Georgia Water Planning District website, www.northgeorgiawater.com. Customers may also request an application by calling 404.463.8645 or e-mailing toiletrebate@northgeorgiawater.org.
Funds for this program are limited, but the County's intention is to set aside funds for the rebate program each year. Rebates will be given on a first-come, first-served basis. Customers who do not receive rebates this year are encouraged to reapply next year provided funds are available.

Click on the following for a recommended list of toilets that qualify for the Toilet Rebate Program.

WaterSense Labeled High-Efficiency Toilet