Additional Burglary Tied to Same Suspects
Update #1, 02/28/2020: Once this case was assigned to a detective, he learned of an additional burglary on the same night committed by suspects matching the description as the first burglary. Shortly after midnight (about an hour after the first burglary) on Sunday, February 16, the Target at 875 Lawrenceville-Suwanee Road was burglarized. The suspects forced entry by breaking the front glass doors. Several pieces of electronics were stolen.
The lead detective is hoping that someone recognizes these individuals and calls in a tip. Anonymous tipsters are encouraged to call Crime Stoppers at 404-577-8477. Case numbers: 20-014814 (Status Jewels) & 20-014817 (Target)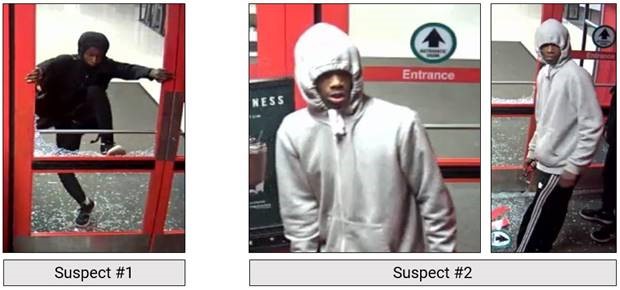 Original, 02/26/2020: (Lawrenceville, Georgia) Two suspects were captured on mall security cameras breaking into and stealing from a jewelry kiosk after hours.
On Saturday, February 15, at around 11pm, officers were dispatched to a burglary at the Status Jewels kiosk at 5900 Sugarloaf Mills Road in unincorporated Lawrenceville. During the crime, two black male suspects wearing hoodies used a hammer to break the display cases and steal approximately $1,500+ worth of jewelry.
The case has been assigned to a detective who is seeking the public's help in identifying the suspects.
Suspect #1: black male, black hoodie
Suspect #2: black male, grey hoodie, black Adidas pants with white stripes
If anyone has any information to share in this case, please contact GCPD detectives at 770-513-5300. To remain anonymous, tipsters should contact Crime Stoppers at 404-577-TIPS (8477) or visit www.stopcrimeATL.com. Crime Stoppers tipsters can receive a cash reward for information leading to an arrest and indictment in this case. Case Number: 20-014814