UPDATE #1: Employee Shot Leaving Pizza Restaurant - ARREST
Update #1, 11/06/2017: A detective assigned to the GCPD Robbery Unit has made significant progress in 5 different recent robbery cases, including the robbery and shooting of a Marco's Pizza employee on October 9. After thoroughly investigating each case, he found several similarities.
On October 13, Dametrius Marquel Sims (age 23) was arrested for his involvement in a robbery of a Papa Johns pizza delivery driver. During the investigation, the lead detective obtained evidence that Sims was responsible for 4 additional armed robberies. Sims has been charged in each of those cases.
Additionally, evidence obtained showed that Oshay Quante Howard (age 20) was involved in 2 of those robberies. On October 31, Howard was arrested and taken into custody. Not only has he been charged in 2 armed robberies, he was also charged with Aggravated Assault, Possession of a Firearm by a Convicted Felon, and Possession of a Firearm during the Commission of a Felony by a different detective in relation to the shooting and homicide at the Midnight Blu Café on October 1.
Below is a breakdown of the cases that Sims and Howard are linked to: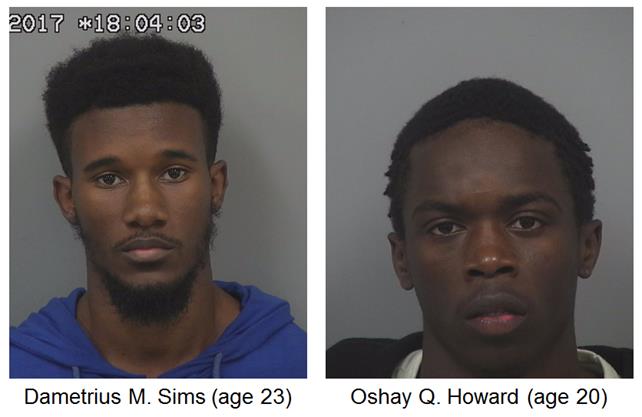 Sims:
17-075150, 08/14/2017, Robbery - Steak and Shake
17-090623, 09/28/2017, Robbery - Chinese Food Delivery Driver
17-091312, 10/01/2017, Robbery - Golden Corral
17-092692, 10/04/2017, Robbery - Papa Johns Delivery Driver
17-094320, 10/09/2017, Robbery/Person Shot - Marco's Pizza Employee
Howard:
17-091312, 10/01/2017, Robbery - Golden Corral
17-091334, 10/01/2017, Homicide - Midnight Blu Cafe
17-094320, 10/09/2017, Robbery - Marco's Pizza Employee
Original, 10/10/2017: (Lilburn, Georgia) Gwinnett County Police are searching for a suspect who shot a Marcos Pizza employee as he walked to his car after closing the restaurant last night. Police responded to 4050 Five Forks Trickum Road shortly after 10 p.m. to find the victim lying in the parking lot with a gunshot wound to the chest. Officers applied a chest seal to the victim and began other first aid measures before paramedics arrived.
The victim was able to tell police that a black male dressed in all black attempted to rob him. At this point police do not believe that the suspect escaped with any property. Detectives are working to piece together the sequence of events and will canvass the shopping center for potential evidence. The victim is expected to survive.
If anyone has any information to share in this case, please contact GCPD detectives at 770-513-5300. To remain anonymous, tipsters should contact Crime Stoppers at 404-577-TIPS (8477) or visit www.crimestoppersatlanta.org. Crime Stoppers tipsters can receive up to $2,000 for information leading to an arrest and indictment in this case. Case Number(s): 17-094320