GCPD's 100th Police Academy Began Today
(Lawrenceville, Georgia) The year 2018 marks the 200th Anniversary of Gwinnett County and will mark the Gwinnett County Police Department's 100th Police Academy. The 100th Academy began earlier this morning, January 16, 2018, and is the department's first 50-person academy. The very first GCPD Police Academy took place in October of 1972. Classes were originally held in the chapel of the Department of Corrections. Now, we have a state-of-the-art Training Center dedicated to training new recruits and offering continuing education to veteran officers and civilian employees.

In the past, the average academy class size has ranged between 25-35 recruits. Recognizing the need to fill vacancies, GCPD intends to have more 50-person academies in the future. These classes will be filled with the support of several hiring events in Georgia and in other locations throughout the country. We have had tremendous success with recruiting in upstate New York and the surrounding area.

The last 4 Chiefs of the Gwinnett County Police Department began their careers as recruits in the police academy. The people we hire today as police recruits could very well be the ones leading this agency in the future.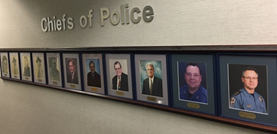 The 99th Police Academy graduated on January 4, 2018, adding 20 new police officers to the streets of Gwinnett. GCPD has an authorized strength of 783 officers and currently has 706 filled positions. This means GCPD is still hiring for 77 vacant police officer positions.

The Gwinnett County Police Department provides all their recruits with the training and equipment needed to become a police officer. They receive full salary and benefits while waiting for the next Academy and while attending classes in the Academy. The details below highlight the pay, hiring process timeframe, and areas of opportunity within the department.
Why Gwinnett Police?
Competitive Pay:

Starting pay: $38,642 ($40,960 with a Bachelor's Degree)
1 year: $43,200 ($45,792 with a Bachelor's Degree)
3 years (with the completion of other training requirements: $49,528 ($52,499 with a Bachelor's Degree).
Hiring Process:

Thorough background check on all applicants
Completed in less than 90 days
Opportunity:

After two years, officers may apply for specialized units such as: K9, SWAT, Criminal Investigations (detectives), Hazardous Devices Unit, Motorcycle Unit, DUI Unit, Accident Investigation Unit, Aviation, and Narcotics.
Please visit www.gwinnettpolicejobs.com for more information and to apply.