UPDATE #2: Missing Child / Interference with Custody – Quamaine Finch (age 7) – Child Returned, Suspect in Custody
Update #2, 12/05/2018: Earlier today, Ricardo Medy (age 42) surrendered to a Gwinnett County Sheriff's Department deputy at the Gwinnett County Recorder's Court Annex Building (115 Stone Mountain Street in Lawrenceville). He was eventually transported to the Gwinnett County Jail.
Quamaine Finch (age 7) was with Ricardo. His DFCS case worker was contacted, and she took custody of him. Quamaine is in good health.
We are thankful that there was a peaceful resolution to this situation.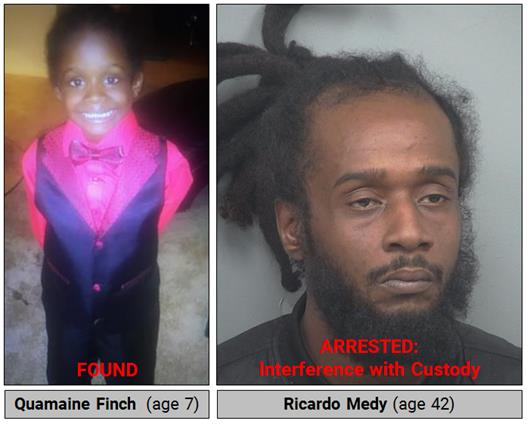 Update #1, 12/03/218, 4:30pm: We have learned that Ricardo Medy has made voluntary phone contact with a member of the media. It was relayed to Gwinnett Police that he does not acknowledge the warrant for his arrest or the authority of the police. He claims to have Quamaine with him and says that he is unharmed. Ricardo claims to be Quamaine's father and is still refusing to cooperate in this matter. We urge him to surrender Quamaine and to turn himself into the Gwinnett County Jail.
If anyone knows their locations, please contact GCPD detectives at 770-513-5300. To remain anonymous, tipsters should contact Crime Stoppers at 404-577-TIPS (8477) or visit www.crimestoppersatlanta.org. Crime Stoppers tipsters can receive up to $2,000 for information leading to an arrest and indictment in this case.
Original, 12/03/2018, 12:45pm: (Lawrenceville, Georgia) The Gwinnett County Police Department needs the public's help in locating a missing child. Seven-year old, Quamaine Finch is believed to be with Ricardo Medy (age 42).
Quamaine Finch's mother was taken into custody in Fulton County last week for unknown charges. The child was initially left in the care of her boyfriend, Ricardo Medy (age 42, Lawrenceville). Since that time, the Division of Family and Children's Services (DFCS) was awarded custody of Quamaine.
On Tuesday, November 27, at around 7:30pm, officers assigned to the East Precinct, along with a member of DFCS, visited the home of Ricardo (1273 Park Hollow Lane, unincorporated Lawrenceville). Ricardo refused to answer the door for the officers. Through a phone conversation, he said that the child was not at the home. He told the officers that Quamaine was with his biological father at an unknown location.
The case was ultimately assigned to a detective in the Special Victims Unit. That detective secured an arrest warrant for Ricardo Medy. He has been charged with Interference with Custody.
Ricardo has previous ties to New Jersey, Florida, and Georgia.
At this time, we do not know the whereabouts of Quamaine or Ricardo. If anyone knows their locations, please contact GCPD detectives at 770-513-5300. To remain anonymous, tipsters should contact Crime Stoppers at 404-577-TIPS (8477) or visit www.crimestoppersatlanta.org. Crime Stoppers tipsters can receive up to $2,000 for information leading to an arrest and indictment in this case. Case Number: 18-110731