Suspect Arrested after Assaulting and Robbing Several Women at their Homes
(Lawrenceville and Duluth, Georgia) A detective assigned to the Robbery Unit recently discovered a series of personal robberies against women at their homes. Two of the robberies and assaults occurred on Monday, December 4, and the other four robberies and assaults occurred on Sunday, December 10.
In all the robberies, women were the targets. They were all returning to their homes when they were assaulted and robbed by the same male suspect. As the women would get out of their vehicles and approach their homes, the suspect would confront them, physically assault them, and then steal their purse and contents. It's very likely that the suspect followed each of the victims home from either grocery shopping or going out to pick up food.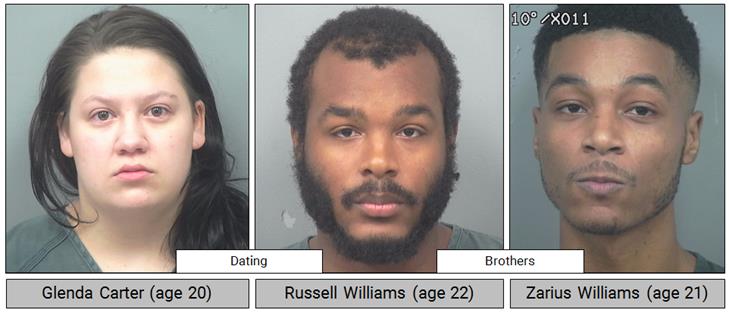 On December 4, shortly after one of the robberies (17-113109), the suspect was seen on surveillance video attempting several transactions using the victim's credit card at the Kroger at 950 Herrington Road in unincorporated Lawrenceville. (The surveillance images of the suspect contained in this Media Release are from those fraudulent transactions.)
The lead detective learned that the suspect may be driving a green or teal Buick LeSabre. The information on these robberies and the possible vehicle was released to the employees at the Gwinnett County Police Department. On Tuesday, December 12, officers assigned to the Central Precinct saturated the area of these robberies in an attempt to locate the suspect and/or the vehicle. Shortly after 7am, the officers located the vehicle on Old Norcross Road near Boggs Road. They conducted a traffic stop on the driver. He was taken into custody without incident.
The suspect has been identified as Boris Demarcus Bell (age 33, Lawrenceville). He was initially taken to GCPD Headquarters and then transported to the Gwinnett County Jail.
The detectives assigned to this crime series worked hard to piece all the events together and gather surveillance images on the possible suspect. The patrol officers are also to be commended for their dedication in locating this violence offender.