Suspects Wanted for Burglary of Local Restaurant, One Suspect Identified, Warrants Obtained
Update #1, 01/17/2019: On Monday, January 14, the lead detective assigned to this case identified Suspect #2 as Brice Hayes (age 33, Lilburn). As a result of this crime, Brice has two active warrants for his arrest. The warrants are for Burglary (OCGA 16-7-2) and Possession of Tools for the Commission of a Crime (OCGA 16-7-20). Brice's whereabouts are unknown.
The detective is still seeking tips to identify Suspect #1. He is a black male possibly in his late teens / early twenties. During the crime he wore black pants, a black hooded sweatshirt, black athletic shoes, black gloves, a white surgical mask, and a headlamp.
The maroon Toyota Yaris should display Washington (state) license plate number ALA0652. Brice and/or Suspect #1 may still be in possession of this vehicle.
Those who know where Brice could be located are encouraged to call their local law enforcement agency or Crime Stoppers.
If you have any tips in the identity of Suspect #1, we urge you to call GCPD detectives at 770-513-5300. To remain anonymous, tipsters should contact Crime Stoppers at 404-577-TIPS (8477) or visit www.stopcrimeATL.com. Crime Stoppers tipsters can receive a cash reward for information leading to an arrest and indictment in this case. Case Number: 19-001624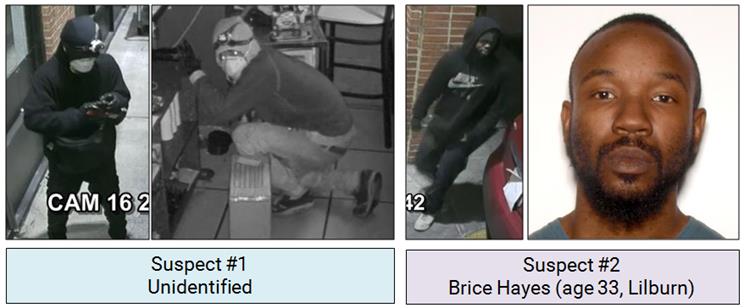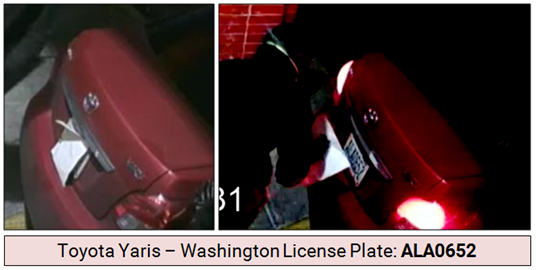 Original, 01/11/2019: (Norcross, Georgia) A detective in the Burglary Unit needs the public's help in identifying two suspects in a recent burglary. The crime occurred at the I Luv Pho restaurant at 4650 Jimmy Carter Boulevard in unincorporated Norcross on Sunday, January 6.
Shortly after 5 AM, suspect #1 smashed the glass on the front door. For the next two hours, he is seen on surveillance camera crawling around inside the business. He eventually steals a safe. After the theft, he met with Suspect #2 outside. Together, they loaded the safe into the passenger area of a red sedan and drove away.
Suspect #1: Male, black, late teens/ early twenties, black pants, black hooded sweatshirt, black athletic shoes, black gloves, white surgical mask, headlamp
Suspect #2: Male, black, late teens/ early twenties, black pants, black NIKE hooded sweatshirt, black gloves, white athletic shoes
Vehicle: Older Model Red Toyota Yaris (2010-2013), unknown state with partial tag "0652" or "0552", Mickey Mouse decal in rear window (passenger side)
If anyone has any information to share in this case, please contact GCPD detectives at 770-513-5300. To remain anonymous, tipsters should contact Crime Stoppers at 404-577-TIPS (8477) or visit www.stopcrimeATL.com. Crime Stoppers tipsters can receive a cash reward for information leading to an arrest and indictment in this case. Case Number: 19-001624