Dinner & Dialogue
Dinner and Dialogue with Chairman Nash gives residents an opportunity to meet with the Chairman in an informal setting and engage in meaningful dialogue about their county. The dinners are held once a month from 6:00pm to 8:00pm at various restaurants in Gwinnett and are open to all Gwinnett County residents age 18 years and older.
Dinner & Dialogue will be held once/every other month at various locations around Gwinnett County. No matter where you live in the district, you can attend any dinner that is most convenient you! Restaurant locations will be disclosed only to those registered for each dinner. The dates for the 2018 Calendar year are listed below. Please click on each date which will take you to the registration form: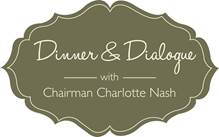 Monday, February 12th – Lawrenceville Area
Monday, April 16th - Norcross/Peachtree Corners Area
Monday, June 4th- Duluth Area
Monday, August 6th – Lilburn
Monday, October 1st – Snellville/Centerville
Monday, December 3rd- Buford
Please note that dinners are limited to 10 guests each and registration is first-come, first-served. Please register for one dinner to help ensure others have the opportunity to participate. All guests will be responsible for the cost of their own meals. If for any reason you need to cancel your reservation, please modify your status through Eventbrite so that the slot may be made available to another guest. Because of limited seating, during election seasons, we ask that those running for political office refrain from participating to allow residents the space to participate. Please don't hesitate to contact me if you have any questions.