Memorial Symbolism
Memorial Symbolism - The Entrance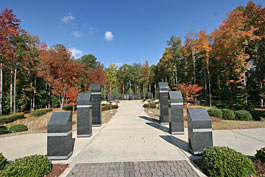 Two gardens flanking the entrance signify peace. Escalating pylons portray the buildup of aggression that leads to war and the walkway depicts a soldier's march to battle. An open plaza suggests the world at large, and offers a way to express individual gratitude, memories, and appreciation with engraved
memorial bricks
.
Memorial Symbolism - The Eagle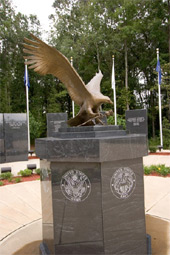 A central pedestal marked with the branches of service is topped by a 200-pound bronze eagle, sculpted by Gwinnett firefighter Vic McCallum, signifying the arrival of friends to a place of safety. A rose in the eagle's talon expresses remembrance - its thorns, the heartache of losing a loved one.
Memorial Symbolism - The Markers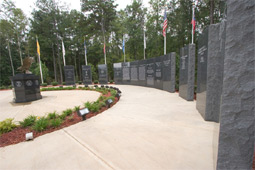 Memories are reflected in
13 black granite markers
, arranged in a semi-circle to symbolize a life cut short, that hold the names - initially 676 names - of the Fallen Heroes in random order without rank. They face the courthouse, where truth and justice prevail.