Program
Program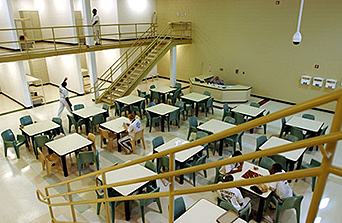 (Due to Covid concerns, the program format has changed for the year 2021. The information below describes the program format in previous years.)
The summer program begins with a "lunch with lawyers" session hosted by the District Attorney's Office to discuss the rights of victims in criminal cases. Students spend time in the courtroom learning about the trial process and perform a short mock trial. We provide copies of the United States Constitution to each student and spend an afternoon discussing constitutional issues. We invite local lawmakers to speak to the students on the legislative process and to answer questions about running for office.
Students tour the courthouse, the Solicitors Office, and the Clerk's Office. We travel to the detention center (jail) for lunch and a comprehensive tour of the jail and magistrate courts located there.
Local defense attorneys provide an inside view into the world of defendants charged with felonies. A panel of judges discusses how to achieve a legal education and various careers in the legal field.
Treatment courts provide a special opportunity for the students to learn about how the criminal justice system deals with alcohol and drug abuse. Addiction issues and testing protocols are discussed as well. A highlight of the program is a demonstration by police of a trained police dog used to detect drugs.
Topics for students include dating violence and domestic violence, covered by the Partnership Against Domestic Violence.
At the end of the summer, law students and new lawyers are invited to speak to the students on getting into law school. And finally, we provide an evening graduation program, where students receive a certificate and provide their own reflections on the program.