Command Staff
R.L. "Butch" Conway, Sheriff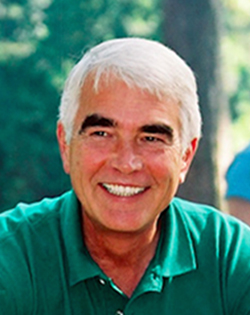 Sheriff Butch Conway began his career in 1973 as an officer with the Gwinnett County Police Department, where he served for 11 years. He rose to the rank of lieutenant and was in charge of the Vice, Intelligence and Narcotics Units before leaving the department to run an office supply business he started in 1981.
During his career, Conway served as a magistrate judge for seven years and as the Chief of Police of Lawrenceville for six years. He was elected sheriff in 1996 and is currently serving in his sixth term of office. Since being elected, Sheriff Conway has reinstated the Fugitive Unit to the Field Operations Division in 1997 to apprehend the most dangerous and elusive criminals. In 2009, he established the 287(g) federal immigration program, which allows specially trained deputies to identify and place detainers on illegal immigrants arrested in Gwinnett County, leading to a substantial reduction in the jail population.
Other projects include the start of Operation Second Chance – a program that rescues dogs from euthanasia at the Gwinnett County Animal Welfare and Enforcement Center, and places them with inmates for obedience training in preparation for adoption to the public.
In 2011, Conway partnered with the United Way of Metropolitan Atlanta to form the Gwinnett Reentry Intervention Program (GRIP) to reduce jail recidivism by pairing individuals exiting incarceration with community resources to help them become self-sufficient. He formed a Gwinnett Chapter of Beat the Heat, Inc., an organization of law enforcement volunteers to raise awareness of the dangers of illegal street racing, drunk driving and drug abuse. Our Beat the Heat deputies visit schools and youth events to share an important message while building a partnership between law enforcement and the community.
Conway currently serves on the Executive Board of Gwinnett Clean and Beautiful and has served on the Board of Gwinnett Neighborhood Leadership. He has also served on the Georgia Sheriff's Association Legislative Committee, Lawrenceville City Council, Gwinnett County Merit Board, Gwinnett County Airport Authority, Lawrenceville Housing Authority, Drug Free Workplace Committee of the Georgia Association of Chiefs of Police, and was a founding director of the Girls Club of Gwinnett and a graduate of Leadership Gwinnett. He also is an avid supporter of the Boy Scouts and Explorer Scout programs.
William "Bill" Walsh, Chief Deputy of Administration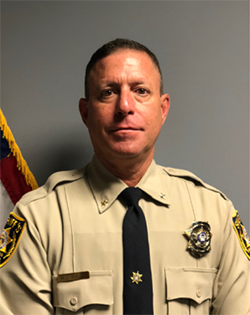 A native of Glendale, NY, William (Bill) Walsh started his service with the United States Navy in 1984 where he served 4 years active duty and 4 years in the reserve as an Operations Specialist. While on active duty, Chief Walsh assisted in the recovery of the Space Shuttle Challenger. Walsh joined the Gwinnett County Department of Corrections in 1988 as a correctional officer supervising inmate work details and as a K-9 officer. In 1990, Walsh transferred to the Gwinnett County Police Department where he served as a Uniform Patrol officer, Criminal Investigations officer, SWAT operator, Field Training officer, Uniform Patrol Watch commander, Hazardous Devices technician, Bomb Squad commander, and Support Operations Assistant Division commander, East Precinct commander.
In 2017, Chief Walsh joined the Gwinnett County Sheriff's Office as a major over the Field Operations Division, managing Uniform Warrants, Fugitive, Investigative Services, Extraditions, Sex Offenders, Family Violence and K-9. In June 2018, he was promoted to chief deputy. As the Chief Deputy of Administration, he oversees Professional Standards, Technical Services, Training, Uniform Supply, Fleet, and Finance.
He is an instructor for Homeland Security/Federal Emergency Management Agency, and holds several certifications for specialized areas, including Hazardous Devices, Hazardous Materials, Chemical Munitions, Management, Supervisory, and P.O.S.T Firearms Instructor.
Walsh graduated Magna Cum Laude from Mercer University, where he earned a Bachelor of Science degree in Social Science (Criminal Justice), Master of Science in Criminal Justice and Public Safety Leadership. He is also a graduate of the FBI National Academy.
Luis "Lou" Solis, Chief Deputy of Operations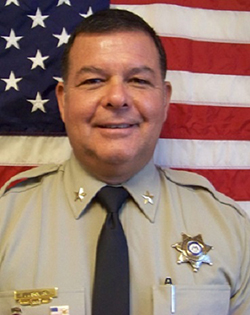 Before joining the Gwinnett County Sheriff's Office, Luis "Lou" M. Solis, Jr. served 11 years with the Braselton Police Department, including assistant police chief, where he managed daily operations, including oversight of the budget, administration, personnel, media communications, criminal investigations, internal affairs, state certification, courtroom security, coordination of prisoner transport, training, community outreach, building maintenance, fleet maintenance, and firing-range operations.
He served 20 years in the U.S. Army's Special Operations, where he retired as a U.S. Army Ranger. He was elected president of his police academy class and was named Rookie of the Year when he served on the Marietta Police Department's S.W.A.T. team and competed in the World S.W.A.T. Competition. He also served on the elite U.S. State Department's personnel security detail in Basrah, Iraq, and Abu Dhabi, United Arab Emirates.
A native of Brownsville, Texas, Solis attended the University of Virginia, the University of Maryland, and is a former instructor for Brenau University Leisure Learning Institute. He is a graduate of the Georgia Law Enforcement Officer Command College, as well as the FBI National Academy. He is a member of many organizations, including the 22nd Georgia International Law Enforcement Exchange and the Joint Terrorism Task Force Executive Board with the FBI's Atlanta office. He is also a trained FBI hostage negotiator uses his fluency in Spanish as a bilingual hostage negotiator for the Georgia State Patrol.