Extradition Unit
Extradition Unit
The Gwinnett County Sheriff's Office Extradition Unit
The Gwinnett County Sheriff's Office Extradition Unit is responsible for initiating the extradition process on inmates that are both in custody at the Gwinnett County Detention Center and those that have been arrested nationwide that have outstanding criminal charges. The Extradition Unit is also accountable for all correspondence and communication pertaining to all warrants received from out-of-state jurisdictions. The extradition of a fugitive from one state to another involves coordination and cooperation among law enforcement personnel, prosecutors, and other government officials. Equally, the Gwinnett County Sheriff Deputies will apprehend the suspect and transport them back to Gwinnett County Detention Center to await the judicial process.
Statistics for 2019 Extraditions:
A total of 540 fugitives were extradited TO and FROM Gwinnett County.
Gwinnett County Deputy Sheriffs traveled to 34 states, including Arkansas, California, Florida, Hawaii, Mississippi, and Texas in 2019 in order to return the 540 fugitives.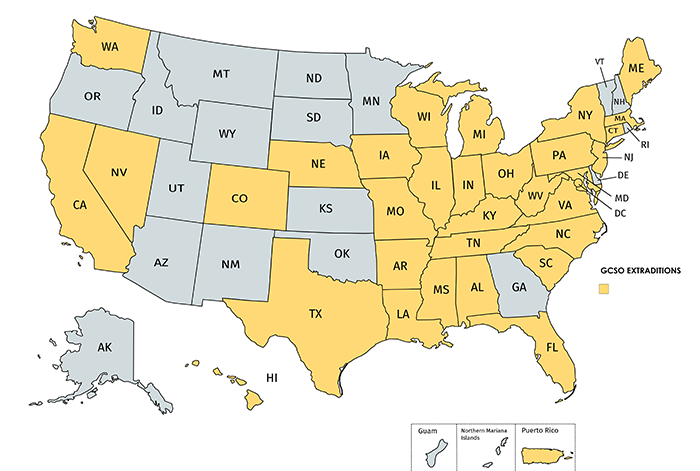 The 540 fugitives were charged with felony offenses including: Murder, Assault, Burglary, Escape, Forgery, Rape, Robbery, and Possession of a Handgun by a Convicted Felon, Theft of Deception and numerous other offenses.
For additional information:
Contact Cpl. O'Hare at 770.619.6857 or GCSOextraditionunit@gwinnettcounty.com