Sections
Family Violence Unit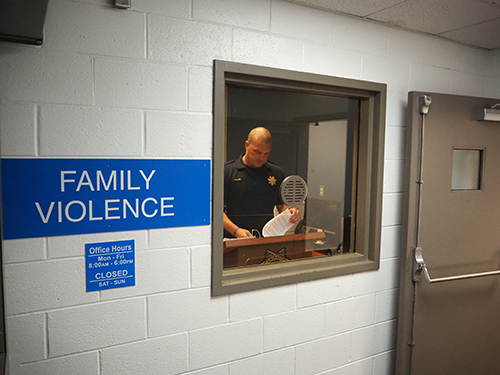 The Family Violence Unit:
Interviews, researches, and documents case file data and information regarding Temporary Protective Orders (TPOs) for family violence and stalking victims
Provides assistance to the public, court personnel, and law enforcement agencies regarding requests for information and information discrepancies
Counsels each victim with safety plans before each service
Conducts research on warrants, criminal histories, and other related information
Serves TPO's, subpoenas, child custody, divorce papers, and warrants
Anything ordered by a judge, vehicle and weapons seizures within residential and business evictions
Transporting victims of domestic violence to various shelters
Assists respondents at a scheduled time to retrieve personal items and/or remaining property at their residence
What is a Protective Order/TPO (also known as Restraining Order)?
Under Georgia law, the Court can issue a Temporary Protective Order if the Court finds that an act of family violence or stalking has occurred between the parties and there is a likelihood that acts of family violence or stalking will continue to occur. Georgia law defines acts of family violence as:
Battery
Simple Battery
Assault
Simple Assault
Stalking
Criminal Trespass
Criminal Damage to Property
Unlawful Restraint
Any felony
Legal Requirements for Applying for a Family Violence TPO:
A person must be at least 18 years old to apply for a TPO
The defendant lives in Gwinnett Count; or the defendant lives out of state and the plaintiff lives in Gwinnett County; or the act of family violence occurred in Gwinnett County
The plaintiff must have an accurate address for the defendant
The plaintiff and defendant must have a qualifying family relationship:

Past or present spouses
Parents of the same children
Parents and children
Step-parents and step-children
Foster parent and foster children
Other persons living or formerly living in the same household


If the parties do not have a qualifying family relationship, then the plaintiff may only seek a TPO under the stalking portion of the Family Violence Act.
Stalking is defined under Georgia law when he or she follows, places under surveillance, or contacts another person without the consent of the other person for the purpose of harassing and intimidating the other person.
Harassing and intimidating is defined in the law as a knowing and willful course of conduct directed at a specific person which causes emotional distress by placing such person in reasonable fear for such person's safety or the safety of a member of his or her immediate family, by establishing a pattern of harassing and intimidating behavior, which serves no legitimate purpose.
How does a TPO get issued?
The person requesting the TPO is called the "plaintiff" or "petitioner" and the person against whom the TPO is sought is referred to as the "defendant" or "respondent." The TPO process begins with the petitioner filing a verified (sworn) "Petition for Relief under the Family Violence Act" with the Magistrate Court. Immediately after the petition is filed, the Court has an "ex parte" hearing. At the "ex parte" hearing, the Court reviews the Petition and takes sworn testimony from just the petitioner. The law gives the Court the authority to grant the TPO on an emergency basis without hearing from the respondent if the Court finds sufficient evidence to believe that an act of family violence or an act of stalking has occurred.
**On average, 70 to 80 percent of new TPO's are served on the same day they are issued.
The Family Violence Unit is located at:

Gwinnett County Sheriff's Office
2900 University Parkway, 2nd Floor
Lawrenceville, GA 30043
770.822.3150
gcsofamilyviolence@gwinnettcounty.com
Clerk's Office Magistrate Court: 770.619.6723
24 Hour Crisis Hotline: 404.873.1766
The Partnership Against Domestic Violence provides shelter, assistance in securing temporary restraining orders, counseling, and relocation assistance.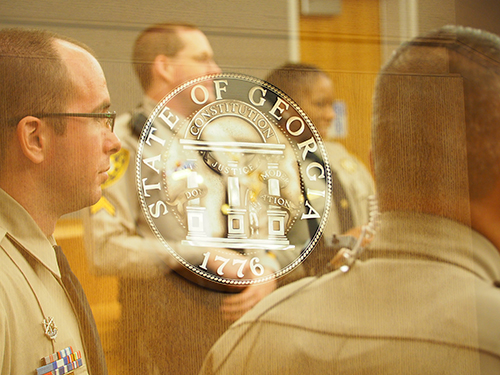 Extradition Unit
The Gwinnett County Sheriff's Office Extradition Unit
The Gwinnett County Sheriff's Office Extradition Unit is responsible for initiating the extradition process on inmates that are both in custody at the Gwinnett County Detention Center and those that have been arrested nationwide that have outstanding criminal charges. The Extradition Unit is also accountable for all correspondence and communication pertaining to all warrants received from out-of-state jurisdictions. The extradition of a fugitive from one state to another involves coordination and cooperation among law enforcement personnel, prosecutors, and other government officials. Equally, the Gwinnett County Sheriff Deputies will apprehend the suspect and transport them back to Gwinnett County Detention Center to await the judicial process.
Statistics for 2019 Extraditions:
A total of 540 fugitives were extradited TO and FROM Gwinnett County.
Gwinnett County Deputy Sheriffs traveled to 34 states, including Arkansas, California, Florida, Hawaii, Mississippi, and Texas in 2019 in order to return the 540 fugitives.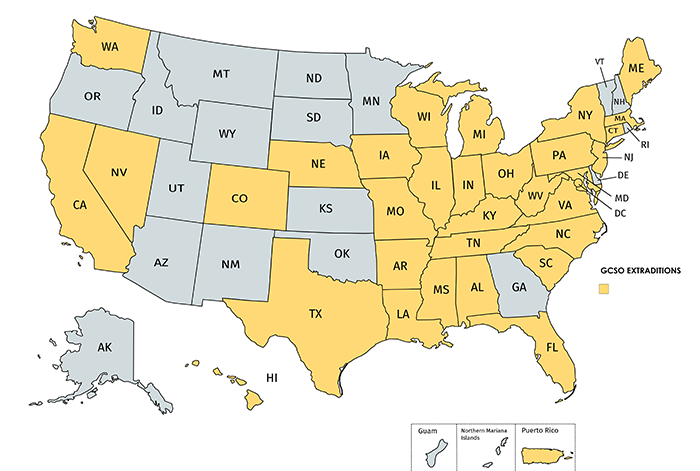 The 540 fugitives were charged with felony offenses including: Murder, Assault, Burglary, Escape, Forgery, Rape, Robbery, and Possession of a Handgun by a Convicted Felon, Theft of Deception and numerous other offenses.
For additional information:
Contact Cpl. O'Hare at 770.619.6857 or GCSOextraditionunit@gwinnettcounty.com