Community Involvement
Community Involvement
Community involvement is driven by a combination of outreach and facilitation goals. Key community involvement activities in the preparation of the Unified Development Ordinance included the UDO Advisory Committee, Leadership Teams and public meetings, among other outreach tools.
Outreach Goals were:
Create awareness throughout the community of the UDO process.
Provide all community members with input opportunities.
Dispel misconceptions.
Educate citizens, development community and county staff on new regulations.
Facilitation Goals were:
Bring key stakeholders to the table.
Facilitate productive discussions of controversial issues.
Build consensus on new regulations.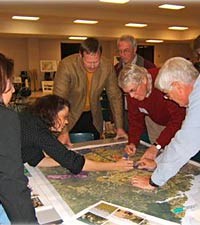 UDO Advisory Committee

The UDO Advisory Committee provided guidance and feedback to the project team throughout the project. The Advisory Committee was made up of approximately 30 individuals representing a cross section of the community.
Meetings were scheduled to coincide with project deliverables and milestones. Numerous meetings were held, with the first being held on February 3, 2011.
Interviews

Stakeholder interviews and data gathering meetings were held with people representing different local interests within the two sector plan study areas as designated by County staff.
Public Hearings
Public hearings were held before both the Planning Commission and Board of Commissioners, resulting in adoption of the UDO in February 2014.