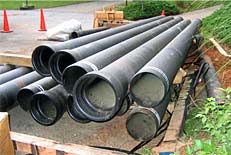 All things mechanical have a finite life span. This includes water distribution pipelines. They only last for so long and at times, need to be upgraded. That is why the Department of Water Resources has established a proactive Water Main Replacement Program, which focuses on everything from small-diameter lines in neighborhoods to large-diameter transmission lines that serve greater areas of the County.
This program is important for a number of reasons. As a water line begins to reach the end of its useful life, it can spring leaks. This can lead to a line break, which may disrupt water service for residents and businesses. If leaks or breaks begin to occur frequently in a water line and it is not repaired or replaced, this can lead to larger, costlier problems.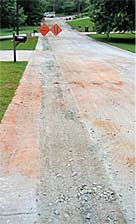 There are other reasons to replace water mains as well. In some instances, certain pipe materials, such as PVC, concrete, or unlined pipe, have variable life spans and require more maintenance than other materials, e.g. ductile iron. In other cases the original line may have become too small to adequately serve the area that has grown up around it or there may be too few, if any, fire hydrants connected to a line.
The Program takes all of these occurrences into consideration and helps DWR meet several goals in providing better service to its customers by:
Replacing mains to help minimize service disruptions
Providing a proactive, business-like approach to replacement by assessing pipeline condition and setting a schedule for replacement
Working to eliminate the cost of repeated pipeline repairs and disruptions to communities
Areas where the work will take place will receive advance notification and specific information on how the project will affect residents and businesses. For more information on the Water Main Replacement program and anticipated projects, please contact Michael Efeyini at 678.376.7069.