The purpose of the Operation and Maintenance program is to provide a functional and reliable storm sewer system operation that provides adequate drainage, to identify facilities that need to be upgraded and to implement improvements to the existing infrastructure in a manner that protects and improves water quality. The three main tasks are investigating drainage concerns, maintaining the system, and storm systems improvement.
Drainage Concern Investigations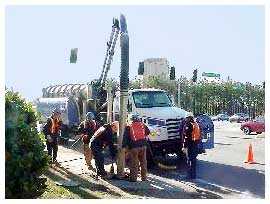 The needs for system improvements are typically identified from requests by the Gwinnett County Department of Transportation, citizen requests, and watershed master planning efforts. When a citizen reports a concern, an investigator will visit the site to gather information. He/she determines what actions need to be taken and informs the citizen of the results of the investigation. If the action is within County maintenance responsibilities, then the investigator will coordinate with the Construction and Maintenance staff to ensure that the request is efficiently processed. The request may go directly to the Construction and Maintenance crews or the request may need the Engineering Program to investigate and design a system. For more information see our Maintenance Policy.
System Maintenance
Maintenance projects usually require the removal of debris, sediment, obstruction and excessive vegetation from storm sewer pipes and inlets. Maintenance crews repair and clean storm sewers, culverts and catch basins to provide a reliable system for maximum flow capacity.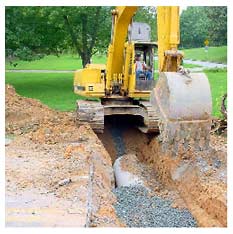 Storm System Improvements
The need for system improvements is identified from requests by the Gwinnett County Department of Transportation, citizen requests, and watershed master planning efforts. Roads may wash out during heavy floods, pipe materials may fail requiring the pipe system to be replaced, or changes in the watershed occur which necessitate the upgrade of a pipe system. If the system needs more than a minor repair, the engineering section evaluates the system to determine what is the best course of action. Sometimes the culvert or pipe simply needs to be replaced. Other times an extensive design may be needed to minimize flooding, prevent road over topping, or improve water quality. Gwinnett County also provides technical assistance to homeowners when possible to help them solve drainage problems on their property.
System Upgrade Construction
The larger projects involve the replacement of undersized storm sewers and pipes damaged beyond repair. These projects may be done by county crews or by outside contractors under the supervision of county staff. Daily site inspections are made by staff to ensure all required erosion control standards have been implemented, and are being maintained to protect downstream water quality. Projects are performed with efforts to minimize inconvenience to homeowners and citizens, while ensuring traffic and work site safety are kept to the highest priority. Staff must coordinate with other utilities such as gas and electric, transportation, and property owners to make the projects successful. These projects usually range in size from $50,000 to over $300,000.