Water quality protection addresses locating and inspecting the storm water conveyance system, inspecting industries, and stopping pollutants from reaching our streams.
Illicit Discharge and Illegal Connection Ordinance
On January 27, 2004, in response to requirements of the Metro North Georgia Water Planning District (MNGWPD), the county replaced the Stormwater Management Ordinance with the Illicit Discharge and Illegal Connection Ordinance. This ordinance provides the County with authority to prevent illicit discharges and disconnect illegal connections to the storm drainage system and to fine violators for non-compliance.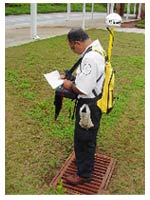 Mapping and Inventory of the Storm Drain System
Gwinnett has a Graphic Information System (GIS) which includes various topological features such as buildings, roads, storm drain system, sanitary sewer system, and land use information. Storm drain infrastructure inventory includes a database with information on material type, age and condition of the pipes and structures. Storm drain data is collected using a Global Positioning System (GPS) unit that captures the location of the structure with the database information being entered into a lap top computer that downloads into the GIS system. Detention ponds and Best Management Practices (BMPs) inventory has been incorporated into this process. For more information see Mapping and Inventory of the Storm Drain System.
BMP Inspections
Best Management Practices (BMPs) are used to mitigate the effects of development on water quantity and quality. Inspections are done to ensure that the facilities function as designed over time. BMPs designed after January 2001 are inspected during initial construction, and at 12 months. Before the developer's maintenance bond is released at 18 months, the developer must provide certification that the required facility is in good condition. After that, the facilities will be inspected on a periodic basis. The owner of the BMP is contacted if any maintenance is needed. For "Do-it-Yourself" detention pond maintenance tips, see this brochure.
Industry Inspections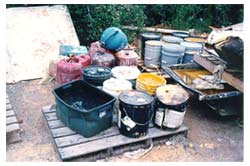 Industrial inspections are done for certain Standard Industrial Classification (SIC) codes, along with all municipally owned and/or operated facilities. During an inspection we look for direct connections to the storm drain system, exposed material that could be washed into the storm drain system, and situations that could cause of release of a substance into the storm drain system. Efforts are also made to educate the facility staff on what non-point source pollution is and how to prevent it.
Industries are inspected by SIC code classification. We inspect about 300 industries a year. Inspection forms for each classification are developed to insure inspectors are aware of potential pollutants associated with that type of industry. A form was developed for municipal inspections to insure that the diverse nature of municipal facilities was taken into account insuring that all inspections covered all potential sources for non-point source pollution. Violators are informed of proper procedures to use to prevent future discharges and violation notices are sent with defined corrective action needed. All remediation work is inspected to ensure it has been completed.
Source Water Protection
Our drinking water comes from streams, rivers and lakes in a watershed. When pollutants are spilled, distributed or dumped on the ground they make their way into rivers and streams via storm drains, surface and ground water flows and threaten the quality of our drinking water. By protecting our source water from contamination we can reduce the costs of treatment and risks to public health.
For more information on the type of inspections currently being done see Industrial Inspections.