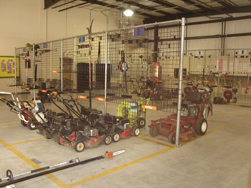 In compliance with the County's Stormwater Permit, issued by GA Environmental Protection Division, Gwinnett County inspectors are required to complete audits of certain identified priority industrial activities. In the past the county has focused on motor vehicle repair shops, vehicle cleaning and detailing activities, fuel dispensing facilities and metal forming workshops.
Currently the county is focused on auditing 'Commercial Lawn and Garden Services' and 'Surface Cleaners'.
These audits are designed to assess compliance by industry with the County's Illicit Discharge and Illegal Connection Ordinance . To assist business with compliance the county has developed several Water Quality Guidelines which contain specific guidance on management practices that will assist with compliance and minimization of any potential for water pollution.
Standard inspection forms have also been created for each type of industry. Currently Gwinnett County inspectors audit businesses located within unincorporated Gwinnett County and 11 cities located within the county.
For more information on auditing of a specific industry group, including industry specific inspection forms and a copy of the relevant Water Quality Guideline, please click on the appropriate link below.
Commercial Lawn and Garden Services
Surface Cleaners
For more information regarding the industrial inspection program in general please contact the Stormwater Management Division at 678.376.6826 or send an email to Barbara Seal.