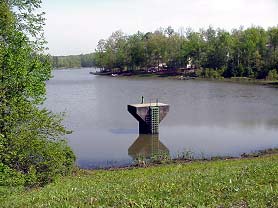 In the 1960s, 1970s and the 1980s, Gwinnett County participated with the U.S. Department of Agriculture (USDA) in a program to protect land from flooding. Working with the Natural Resources Conservation Service (NRCS) in the USDA, 14 watershed dams were built in the county as a result of the program. Due to changes in the watershed, regulation changes and revisions to the estimates of flooding magnitudes, the dams need to be upgraded to meet stricter safety requirements. When people move in below large dams, the dam becomes a potential safety hazard in the event that the dam should beach. Therefore the dams must meet what are called Category I standards.
Gwinnett County was the first county in the state to participate with the Georgia Soil and Water Conservation Commission and upgrade the watershed dam in the Big Haynes basin, H-21, to Category I in the mid-1990s. Gwinnett now has a state Safe Dams Permit for our H-21 dam in the Haynes Creek Basin. One other NRCS dam in the Mulberry River Basin, M-11, was upgraded to category I standards by a developer as a part of a subdivision development.
We are currently working on the engineering studies to upgrade five (5) other NRCS dams to Category I with two (2) studies being done in conjunction with the state.