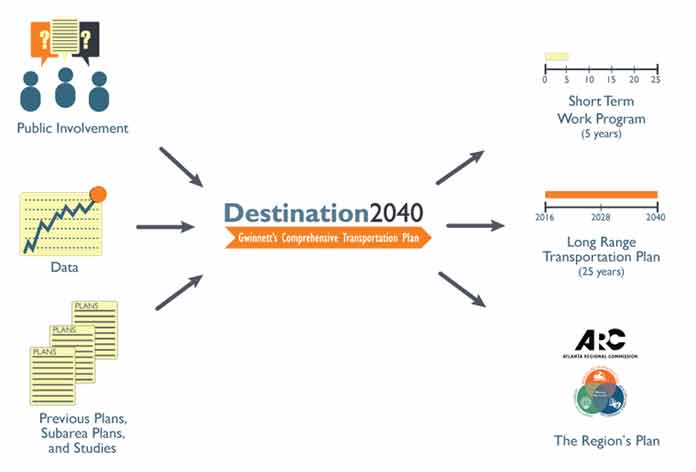 What is a Comprehensive Transportation Plan?
What is a Comprehensive Transportation Plan?
A Comprehensive Transportation Plan, or CTP, serves as a roadmap for how a community would like to see their transportation networks develop to serve their current and future needs. Gwinnett County's CTP will focus on all modes of transportation, including roadways and bridges, transit, bicycle and pedestrian facilities, and truck routes as well as the Gwinnett County Airport.
To best prepare for our future, it is important to look at the changes that have occurred in Gwinnett County's population, employment, land use, and development since the adoption of the previous plan. Knowing what has happened or is happening can help the planning team guide the County to where it wants to be in the future, which will influence the overall development of the CTP. The resulting updated CTP will set a direction for transportation in Gwinnett County moving forward, with a horizon year of 2040. Ideally, a CTP is updated every 5 to 7 years.
For more information on the CTP process, check out the project fact sheet:
Fact Sheet