Diverging Diamond Interchanges
Diverging Diamond Interchanges
Gwinnett County Government worked with the Gwinnett Place and Gateway 85 Community Improvement Districts (CID) to bring Diverging Diamond Interchanges (DDI) to
I-85 at Pleasant Hill Road
and
I-85 at Jimmy Carter Boulevard.
The DDI's innovative design relieves congestion, improves safety, and is less expensive than replacing or widening the bridge. A DDI shifts traffic to the opposite side of the road, making left turns onto the interstate easier and improving the flow of traffic across the bridge.

To learn more about the history of the project and the DDI's features, watch TV Gwinnett's video.
Check out the I-85 at Pleasant Hill Road and I-85 at Jimmy Carter Boulevard Web pages for project information.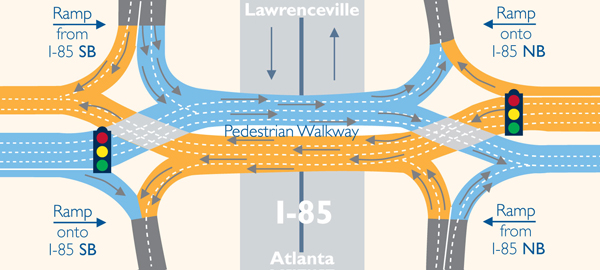 If you have any questions about the DDI projects, email
DOTCommunityRelations@gwinnettcounty.com.