Schedule
What does the process look like?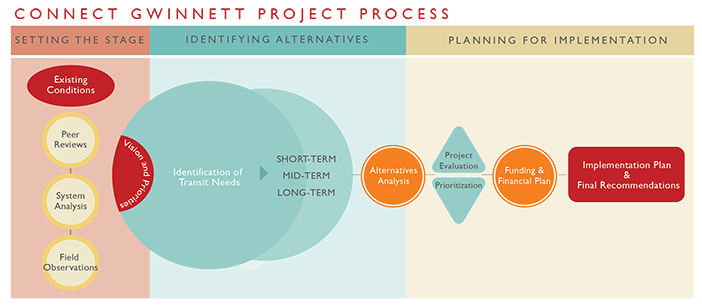 The Connect Gwinnett: Transit Plan process was an approximately 15-month process that began with understanding the current state of transit in Gwinnett. It also included studying factors that create a robust transit system, such as where people live, work, and play; how they normally move around; and what types of personal and household characteristics might influence people's decisions to take transit. This phase is known as the Existing Conditions phase, which helped set the stage for the planning process.
The next phase, Needs Assessment, helped the planning team identify alternatives or various scenarios for GCT's future. These alternatives were designed in response to identified current and future needs, and the various improvements that make up the alternatives were categorized into short-, medium-, and long-term priorities.
Once a series of alternatives was developed and analyzed, the planning team evaluated them along with possible funding scenarios. With input from the community, the planning team compared alternatives and funding opportunities and developed a prioritized set of improvements. The final step was creating a plan to help GCT with implementation of the Connect Gwinnett recommendations.