Bill Estimation FAQs
Bill Estimation FAQs
Why is Gwinnett estimating bills?
Estimation is a standard practice used in the utility industry to ensure the billing cycle is maintained. Like many other industries, our meter-reading contractor has staffing shortages and is unable to read meters as quickly as usual, therefore we need to estimate some bills to ensure a monthly billing cycle.
How are you estimating my bill?

Your estimated bill is based on water usage from the previous month.

Why is my bill late?

We are currently experiencing delays in the processing and mailing of some bills. If your bill has not been received, you may visit us online at www.gwinnetth2o.com/paymybill to set up an account, view a copy of your recent bill or bill history, and even sign up for convenient paperless billing.
What if I just moved in and didn't have a water bill last month?
Our system will estimate your bill based on average daily water usage for residents in Gwinnett.
How do I know if my bill is estimated?
At the top of the bill, you will see a notice in red stating that the bill has been estimated.
Please note, this notice will override any other messages applicable to your account:
For customers enrolled in AutoPay, your payment is still scheduled to draft even though the notice does not appear at the top of your bill. In some cases, bills have been delayed, so payments may be deducted a few days later than usual. This is a timing issue and late charges will not apply.
Customers scheduled for disconnection will continue to receive a separate postcard showing the disconnection message details which usually appear at the top of the bill.

What if I used more/less water than estimated?
Your bill will be adjusted on the next month's bill, which will be based on an actual meter reading. This will ensure you are only billed for water used.
How long will you be estimating my bill?
We will not estimate your bill for longer than one month at a time. Your estimated usage and your actual usage will be reconciled on the next month's bill, which will be based on an actual meter reading.
When will Gwinnett County stop estimating bills?
Department of Water Resources staff are closely monitoring this situation. The meter reading contract will be re-bid soon to secure improved meter reading services. We will continue to prioritize work to ensure we provide you with safe and reliable water services.
Who should I talk to if I have questions about my bill estimation?
If your question is not answered here, please email us at DWRCare@gwinnettcounty.com or call us at 678.376.6800 (Option 2).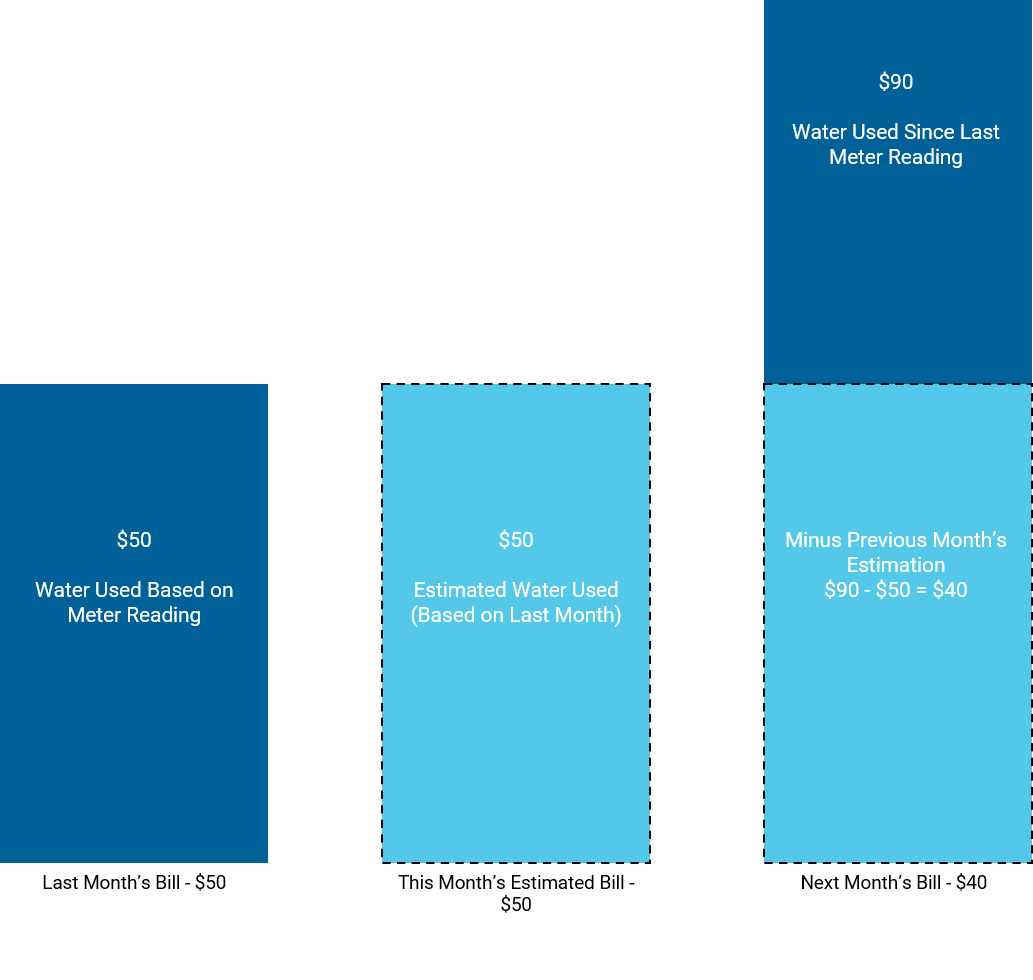 Bill Estimation Translations