UPDATE #2: Homicide Investigation – Thompson Mill Rd, Buford – Warrants Obtained, One Suspect Arrested and One Suspect on the Run
UPDATE #2, 07/03/2019: Two suspects have been identified in this case. Savion Dillard (20, Jonesboro) has been charged with Felony Murder, Armed Robbery, Aggravated Assault, and Possession of a Firearm During the Commission of a Felony. Denzel Wilburn (21, Buford) has been charged with Armed Robbery and Possession of Marijuana. Detectives believe that Dillard and Wilburn traveled to the incident location to rob the victim and witness, who were selling marijuana. Dillard is believed to have shot the suspect, while Wilburn drove the vehicle and received proceeds of the robbery and murder. Wilburn was arrested without incident and remains in custody at the Gwinnett County Detention Center. Dillard is on the run and has active warrants for his arrest.
If anyone has any information on the whereabouts of Savion Dillard, please contact GCPD detectives at 770-513-5300. To remain anonymous, tipsters should contact Crime Stoppers at 404-577-TIPS (8477) or visit www.stopcrimeATL.com. Crime Stoppers tipsters can receive a cash reward for information leading to an arrest and indictment in this case. Case Number: 19-059699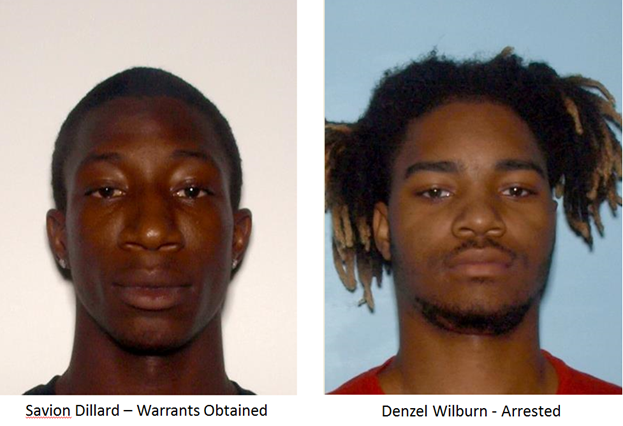 UPDATE #1, 07/01/2019: The deceased victim has been identified as Branden Gerena (H/M, 15 years old) of Buford. His family has been notified. Detectives are still trying to identify the suspect described in the original release. Anyone with information is asked to call detectives at 770-513-5300.
Original, 07/01/2019: (Buford, Georgia) The Gwinnett County Police Department is actively investigating a homicide that occurred just after midnight at the gas station located at 4555 Thompson Mill Road, Buford. Police were called when a 15 year old male was shot behind the store. The teenage victim was transported to a local hospital where he died from his injuries. The Homicide Unit and Crime Scene Unit were called and are investigating. They have learned the victim and his friend, a witness, were at the location when a black male in his 20's approached them. The suspect fired a shot striking the victim. The suspect then fled on foot. The suspect was described as a black male in his 20's wearing blue jeans, a black jacket with red lettering, and a backwards baseball hat. The Gwinnett County K-9 Unit as well as Air-1 are assisting in the search for the suspect.
The victim's identity is being withheld until next of kin notification can be made. The suspect's identity is also unknown and his motive has not yet been determined.
If anyone has any information to share in this case, please contact GCPD detectives at 770-513-5300. To remain anonymous, tipsters should contact Crime Stoppers at 404-577-TIPS (8477) or visit www.stopcrimeATL.com. Crime Stoppers tipsters can receive a cash reward for information leading to an arrest and indictment in this case. Case Number: 19-059699