Robbery Suspect Steals Chips & Lighters by Intimidating Store Clerk
(Norcross, Georgia) A robbery suspect stole multiple items from a Shell gas station after intimidating a store clerk into hiding behind the register. The incident occurred on December 21, 2019, at the Shell located at 1745 Indian Trail Road in Norcross.
Two males originally entered the gas station and began picking items up and setting them down in different areas of the store. The store clerk noticed the behavior and became suspicious that the two men were planning to steal merchandise. As the two men started to walk out of the store, the clerk accused one of them of theft.
After being accused of stealing, the first male suspect turned around and walked up to the clerk. The suspect rolled his shoulders back, puffed out his chest, and balled his hands into fists. As the suspect moved closer to the clerk, the clerk retreated to the secure cashier area of the store.
Once the clerk retreated, the suspect walked back through the store and picked up four bags of chips and multiple Bic lighters. The clerk attempted to lock the suspect in the store. When the suspect noticed the door was locked he approached the secure cashier area and threatened the clerk. The clerk unlocked the door and the second suspect held the door open while the original suspect gathered up the chips and lighters and fled. The two males got into an early 2000's Mazda or Hyundai passenger car.
Security footage from the store captured both of the males. The Gwinnett County Police Department is asking for the public's help in identifying the two males.
If anyone has any information to share in this case, please contact GCPD detectives at 770-513-5300. To remain anonymous, tipsters should contact Crime Stoppers at 404-577-TIPS (8477) or visit www.stopcrimeATL.com. Crime Stoppers tipsters can receive a cash reward for information leading to an arrest and indictment in this case. Case Number: 19-117646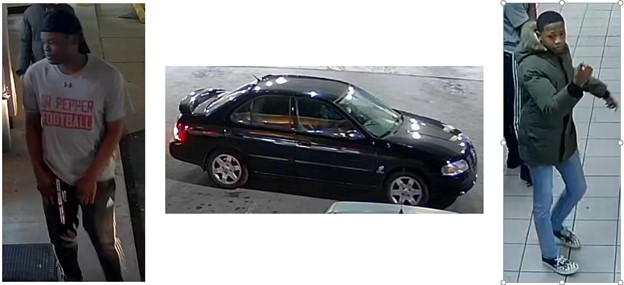 Robbery Suspect Steals Chips & Lighters by Intimidating Store Clerk