UPDATE #2: Suspects Arrested after Homicide at Paramont Apts
Update #2, 07/21/2020: The following suspects were charged in this case:Gerson Survy (age 24, Duluth), Saturnino Lopez Cardona (age 30, Duluth), and Wilmer Mendez (age 21, Duluth). Each of the suspects have been charged with Felony Murder and Aggravated Assault.
The victim, Lucas Andres Cruz Guzman, was 20 years old. He lived at the apartment complex where the homicide occurred.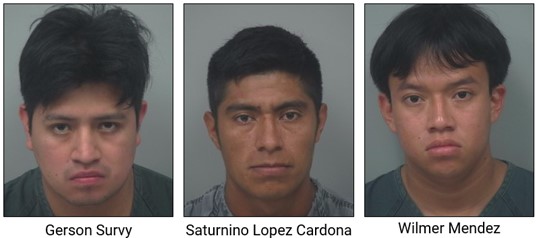 Update #1, 07/19/2020: The GCPD Homicide Unit has identified the victim as Lucas Andres Cruz Guzman. His family has been notified.
Detectives learned Guzman was at the party when an altercation began between three other males and the victim. The altercation continued outside the apartment where the victim was ultimately stabbed multiple times by the suspects. The suspects were identified and transported to Police Headquarters for interviews. The three suspects were subsequently charged with the murder of Guzman.
Original, 07/19/2020: A Hispanic male was found dead outside a building at the Paramont Apartments at 4201 Pleasant Lake Village Ln. shortly before 5:30 am this morning.
A Good Samaritan saw the male on their way to work and stopped to render aid. They called 911 and officers arrived a short time later. They located the man and noticed he sustained a traumatic injury to the torso. It is unknown what caused the injury.
The GCPD Homicide Unit is currently investigating this suspicious death as a homicide.
The victim has not yet been identified. He appears to be between 20 and 30 years old.
If anyone has any information to share in this case, please contact GCPD detectives at 770-513-5300. To remain anonymous, tipsters should contact Crime Stoppers at 404-577-TIPS (8477) or visit www.stopcrimeATL.com. Crime Stoppers tipsters can receive a cash reward for information leading to an arrest and indictment in this case. Case Number: 20-053249