December 2012 Firefighter Graduates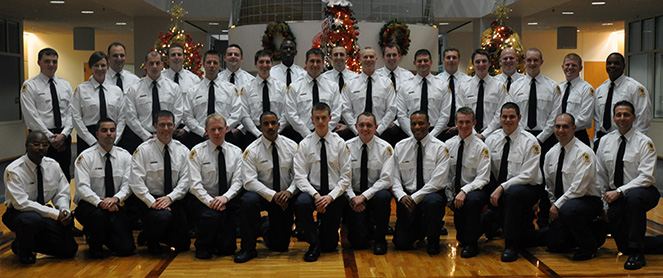 The Gwinnett County Department of Fire and Emergency Services graduated a class of 32 firefighters on December 10, 2012. Family and friends of the new firefighters, elected officials, and Fire and Emergency Services personnel attended the ceremony held at the Gwinnett Justice and Administration Center in Lawrenceville.
The new firefighters are: Courtney Allen, Mike Ambort, Cameron Bagley, Jennifer Brooks, Jamie Cote, Luke Cown, Eric Crisp, Derek Dotson, Mark Dressler, Jamison Earley, Wesley Ferguson, Dusty Hall, Kyle Johnson, Chad Lake, Web Marshal l, Michael McDaniel, Mel Middlebrooks, Shane Palmer, Dominic Pasqualino, Zack Payne, Cody Pickelsimer, Zabi Polard, Brandon Porter, Scott Rary, Julio Rodriguez, Jason Schuon, Anthony Strother, Chris Tuck, Jess Verdejo, Tyler Veronee, Mike Watson, and Alex Wright.
If you are interested in seeing if you have what it takes to serve as a firefighter, check out the fire employment webpage.