September 2011 Firefighter Graduates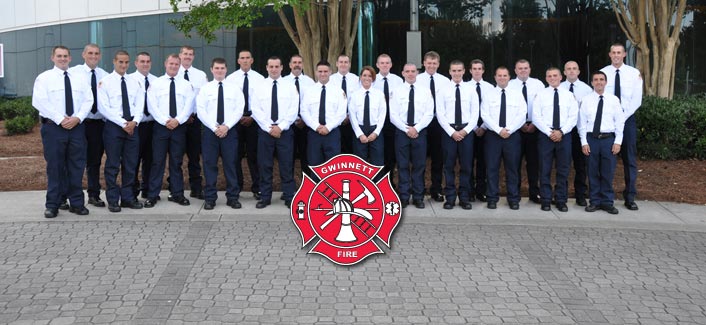 On September 13, 2011, the Gwinnett County Department of Fire and Emergency Services graduated 24 new recruits. Family and friends of the new firefighters, elected officials, and Fire and Emergency Services personnel attended the ceremony held at the Gwinnett Justice and Administration Center in Lawrenceville. The group is the first class of Gwinnett fire recruits ever to pass state level certification testing for both firefighter and emergency medical technician on the first attempt.

Fire Chief Bill Myers presented certificates and badges to all 24 graduates. The new firefighters are: Ryan Black, Corey Dale, Jeremy Edwards, Adam Ewing, Joshua Gary, Mark Gerrin, Sean Henry, Jared Joiner, Timothy Joiner, Alan Krieg, Jeremy Lancaster, Justin Martin, Justin McCarty, Rebekah McInnes, Jose Pagan, Benjamin Pierce, Titus Pugh, David Sargenski, Blake Taylor, David Thrasher, Daniel Todd, Jose Torres, Joseph Wilson, and Samuel Yoder.
If you are interested in seeing if you have what it takes to serve as a firefighter, check out the fire employment webpage