Wynne-Russell House
4684 Wynne Russell Drive, Lilburn
The home, built in 1826, is the oldest house in Lilburn and one of the oldest in Gwinnett County.  It is typical plantation plain architecture and originally had one room on the ground floor and two rooms upstairs with chimneys at either end.
Thomas and Mary Wynne moved to Gwinnett County from Greenville, South Carolina with seven children under the age of 12, and had seven more after settling in what was then known as the McDaniel settlement. They ran a 500 acre plantation, with their main crops being corn and sweet potatoes.  Their children married into some notable families, including the Nesbitt and Smith families. Thomas and Mary were the great-grandparents of Tullie Smith, whose historic home is run by the Atlanta History Center.

The interior floors, walls and fireplaces are original to the home and have been largely untouched by modern finishing.  Initially the kitchen was detached and sat in the back of the home, along with outbuildings.  In the later 1800's, Victorian additions were made and the original kitchen was then attached to the main house.
The house is in its original location and stayed in the family through marriage until the last owner, Mary Russell, died in 1971. The City of Lilburn purchased the home in 1975 and work was soon underway towards restoration.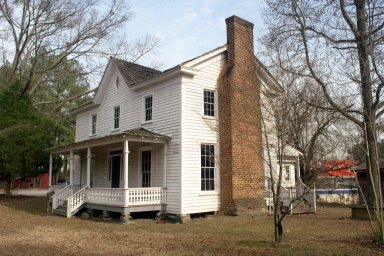 The Wynne-Russell house was placed on the National Register of Historic Places in 1977. In 1985, the original family cemetery, which was located on the other side of what is Lawrenceville Hwy now, was relocated near the home. 
The bordered cemetery contains the remains of Thomas Wynne – War of 1812 veteran, wife Mary, sons Charles and James – both were in the Civil War and daughters Mary and Martha.

In 2017, the Gwinnett Archaeological Research Society conducted an archaeological dig and made some fascinating finds that are being cataloged and will be on display at the home in the near future.

The Wynne-Russell house is available for tours and rentals for small gatherings. For more information, please visit www.lilburnevents.com.