Environmental and Heritage Center
Gwinnett Environmental and Heritage Center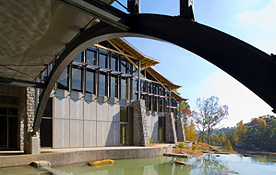 The Gwinnett Environmental and Heritage Center is a unique partnership between the Gwinnett County Board of Commissioners, the Gwinnett County Board of Education, the University of Georgia, and the Gwinnett Environmental and Heritage Center Foundation.
The center is used as a multi-use history, culture, heritage, and environment facility. Located on a 233 wooded acres near the Mall of Georgia, the center features interactive exhibits, walking trails and greenways, unique rental spaces, gift shop, and is a model of innovative green building techniques.
The center was Gwinnett County's first LEED (Leadership in Energy and Environmental Design) certified green building and has one of the nation's largest, sloped, vegetated roofs.
Hours of Operation
Public Hours
Monday – Saturday
9:00am to 4:00pm



Closed on Sunday




Trail Hours
dawn to dusk

Office Hours
Monday – Friday
8:00am – 5:00pm
2020 Clean Water Drive
Buford, GA 30519

Phone: 770.904.3500
Fax: 770.932.3041

Admission for field studies and educational programs vary. For details, call 678.765.4680.
Enjoy your parks safely!
In an evolving response to the COVID-19 pandemic, certain areas within parks are closed. Residents are encouraged to enjoy the outdoors for exercise and mental and physical health, while following social distancing guidelines recommended by the Centers for Disease Control and Prevention.
Things to know before you go
Orders regarding COVID-19 must be followed
Bottle filler/water fountains are avaiilable; bring your own water to stay hydrated. Please be award, some water fountains may be closed
Use a "Leave No Trace" mentality. Bring a suitable trash bag and take everything out to help protect others
Follow CDC guidelines such as:

Practice social distancing; maintain a distance of six feet or more between people from different households at all times
Wash hands thoroughly and frequently; carry hand sanitizer
Practice coughing and sneezing etiquette
Wear a face covering as much as possible when in public
Stay home if you're feeling sick or exhibiting symptoms of illness
Avoid gathering with others not in your household
Aquatic Center Guidelines:

Limited socially distanced swim lessons are available

Visitors can bring their own pool noodle or Coast Guard approved lifejackets; use of our shared equipment is not allowed

All pool rules apply; for more information, visit our Pool Rules

Regular admission fees apply

Leisure Play Pool Time reservations can be made one day in advance online, in person, or by calling the facility

Bogan Park Aquatic Center and Bethesda Park Aquatic Center, starting March 17, 2021

Indoor Leisurue Play Pool Time reservations

Available Saturday and Sunday

11:00am – 2:00pm or 3:00pm – 6:00pm
Tennis Court and Outdoor Pickleball Court Guidelines:

Players should use their own ball and avoid touching other player's sports equipment
When playing doubles, avoid all incidental contact
Avoid touching your face after handling a ball, racquet, or other equipment
Use racquet/foot to pick up balls and hit them to your opponent
Stay on your side of court and avoid changing ends of the court
Remain apart from other players when taking a break
Dog Park Guidelines

No toys or balls allowed
Only let your dog drink from their own bowl
Virtual Park Experience
Enjoy a virtual visit to the park and discover something new!
Mission and Vision
The
mission
of the Gwinnett Environmental & Heritage Center is to serve as a recreational catalyst for
inspiring
and
engaging
community involvement in
educating
Gwinnett's students to solve tomorrow's environmental challenges;
promoting
sustainable development practices and
utilizing
new technologies to preserve the future health of our water resources;
enhancing
the appreciation of Gwinnett's natural resources; and
presenting
the interaction and interrelationships of lifestyles and cultures, past, present, and future, as they relate to the living world around us.

The vision of the Gwinnett Environmental & Heritage Center is to:
Develop an exemplary, high-tech cultural center known for hands-on science exhibits and quality educational programming that inspires visitors to become better stewards of our environment
To transform the concepts of science and history into interactive, learn-by-doing experiences that will encourage a visitor's natural curiosity and sense of wonder about themselves and the world around them.