S.M.I.L.E. Gwinnett
Summer Session 2022
We invite you to apply for our summer legal education program for high school students: S.M.I.L.E. Gwinnett. This is a free program which will give you access and insight into your court system and the law. Our program will be located at the Gwinnett Justice and Administration Center in Lawrenceville.

Please complete the application and the permission/release form and return to your S.M.I.LE. representative (Rebeccas Streetman, Rebecca.Streetman@gcpsk12.org) no later than April 15, 2022.
Important Dates


June 3, 2022
June 10, 2022
June 17, 2022
June 24, 2022
July 8, 2022
July 15, 2022
S.M.I.L.E. Gwinnett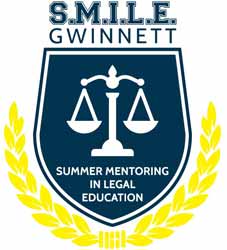 Join us for a free program in legal education!
S.M.I.L.E. Gwinnett is a summer series of Friday afternoon sessions that cover topics such as criminal law, civil law, and constitutional issues. Our presenters are local lawyers, judges, law enforcement officers, and others who have chosen careers in the legal field. We challenge students to learn more about an important career choice.
The summer program begins with an overview of the court system. Students will spend time in the courtroom learning about the trial process and perform a short mock trial. We look at the United States Constitution and discuss constitutional issues. We invite local lawmakers to speak to the students on the legislative process and to answer questions about running for office.
Students will tour the courthouse and other offices that serve the courts. We plan to travel to the jail for a comprehensive tour of the jail and Magistrate courts located there.
Local defense attorneys provide an inside view into the world of defendants charged with felonies, with a focus on the consequences for teenage offenders. A panel of judges discusses how to achieve a legal education and various careers in the legal field.
Treatment courts provide a special opportunity for the students to learn about how the criminal justice system deals with alcohol and drug abuse. Addiction issues and testing protocols are discussed as well. A highlight of the program is a demonstration by police of a trained police dog used to detect drugs.
Topics for students include dating violence and domestic violence, covered by the Partnership Against Domestic Violence.
At the end of the summer, law students and new lawyers are invited to speak to the students on the process of applying to law school and what law school is really like. And finally, we provide an evening graduation program, where students receive a certificate and provide their own reflections on the program.
History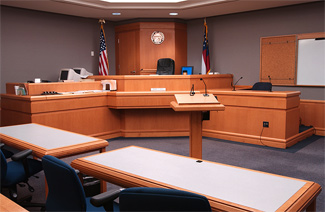 S.M.I.L.E. (Summer Mentoring in Legal Education) Gwinnett is a program initiated by State Court Judges Pamela South and Joe Iannazzone in 2016. With the assistance of Rebecca Streetman, Program Specialist for Law, Public Safety, Corrections, and Security at South Gwinnett High School, Dana Pagan, former Deputy Chief Assistant Solicitor and current defense attorney, and Magistrate Judge Kimberly A. Gallant, the program runs for six or seven sessions in June and July each year.
Since the program's inception in 2016, students from all over Gwinnett County have spent Friday afternoons at the Gwinnett County Justice and Administration Center learning about the legal system from lawyers, judges, law enforcement officers, and other legal staff members.
The program is offered at no cost to students and is staffed by volunteers. Students must provide their own transportation to the Gwinnett Justice and Administration Center for the afternoon sessions.
The program was inspired by a program begun by Judge Stacey Hydrick in Dekalb County State Court several years ago.