Citizen Groups
Citizen Fire Academy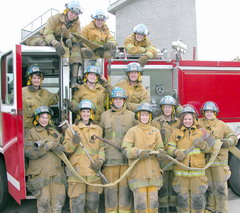 The Citizen Fire Academy is an seven week program that allows citizens of Gwinnett County to learn about and experience the fire department first-hand. Not only do citizens learn about the organization and the services it provides, but they also learn valuable fire and life safety information that increases knowledge of what to do in emergency situations. Plus, all participants have the opportunity to run through firefighter drills at the Fire Academy, and witness life and work at the fire station firsthand. For more information, call the Education section at
678.518.4845.


Citizen Fire Academy Application
Hispanic Citizens Fire Academy Application
Fire Explorers
The Gwinnett County Fire Explorer Post is a program for teens ages 14 through 19 who are interested in one day pursuing a career as a Firefighter/Paramedic. The group meets weekly on Thursday nights to learn about the department, learn new basic firefighter skills, basic pre-hospital emergency medical care, and explore the possibilities that a career in the fire and emergency medical services has to offer.

Applicants for the program must be at least 14 years of age, but no more than 19, and must be enrolled in a Gwinnett County public school or an equivalent educational program. In addition, applicants must turn in an application packet, complete with letters of reference, a completed physical, parental consent, and an essay.


The program is designed to be both educational and entertaining, but there are a few ground rules that all explorers must follow, including a dress code, a strict no drugs, alcohol, or foul language policy, and maintaining a "C" average or better during school months. If you or someone you know is interested in joining this exceptional youth program, contact the public information officer at 678.518.6810 or Christopher.Bilik@gwinnettcounty.com for an application or for more information.