Salary & Benefits
Salary
$2,000 Hiring Incentive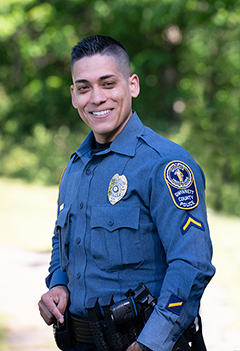 Police Officer Trainee
- $39,801 ($42,189 with 4 year college degree)
Police Officer Senior
- $42,784 ($45,351 with 4 year college degree)
Master Police Officer
- $51,014 ($54,075 with 4 year college degree)

Police Officer Trainees automatically promote to Police Officer Senior on their one year anniversary with successful completion of the police academy and field training program.
After two years at the rank of Police Officer Senior, officers are eligible for a non-competitive promotion to Master Police Officer with completion of certain training requirements.
Gwinnett County has a 12 step pay system with 4% annual raises.
Education Incentive
2 year college degree - 3% increase to base salary
4 year college degree - 6% increase to base salary
Tuition reimbursement is available after 2 years of service for associate, bachelor, and master degrees.
In-State and Out-of-State Lateral Transfers
Lateral Transfers
- Applicants currently or formerly employed by a full-service law enforcement agency in any state will be evaluated on a case-by-case basis for lateral entry. Applicants will not be considered for lateral entry if they have taken a break from service longer than two years. Military police service does not meet the qualification of full-service law enforcement agency.
Approved lateral transfers are hired at the rank of Police Officer Senior. The starting salary range is $41,538 - $63,946. The lateral transfer's years of service will be compared to GCPD officers with similar years of service to set starting salary.
In-State Lateral Transfer - In-state lateral transfers may qualify for an abbreviated training program.
Out-of-State Lateral Transfer
- Out-of-state lateral transfers must attend the full academy session in order to be certified as a police officer in Georgia and obtain training required by the Gwinnett County Police Department.
Retirement Benefits
Defined Contribution Retirement Plan 401(a) - Employees choose 2.5%, 5.0% or 7.5% contribution. The County contributes 7%. Employees are fully vested at 5 years.
Click
here
for more information.
Other Benefits
Health, dental, vision, prescription drug insurance plans
12 paid holidays per year
13 days leave accrued per year at hire (ascending thereafter)
13 days sick leave accrued per year at hire (ascending thereafter)
Flexible Spending Accounts for medical and dependent Care
HSA/HRA available
Additional incentive leave for Accident-Free Awards, Officer of the Month, and annual physical fitness testing
Basic, optional, and dependent life insurance
Short-term and long-term disability
On-site medical wellness center
Wellness incentive programs
Immunizations
Tuition Reimbursement Program
Longevity pay after three years
Paid training
Employee Assistance Program
Off-duty employment opportunities

Click here for more information.