UPDATE #1: GCPD Officer Struck by Vehicle – Suspect Arrested
Update #1, 01/27/2020: Ivan Montalvo (age 26, Lawrenceville) has been placed under arrest and booked into the Gwinnett County Jail. He has been charged with the following crimes:
Aggravated Assault against a Law Enforcement Officer – 2 counts
Aggravated Battery against a Law Enforcement Officer – 1 count
DUI – 1 count
Hit and Run (Serious Injury) – 1 count
Obstruction (felony) – 2 counts
Fleeing or Eluding – 1 count
No License – 1 count
Immediately following the original incident, a lookout was placed over the police radio with a description of the vehicle. Ivan's van was found a short distance away on Wintergreen Road in unincorporated Norcross.
The driver ran away from the vehicle and was later captured by responding officers. After being treated for a K9 injury, he was transported to the jail.
Lt. Restrepo is home resting and recovering from his injuries. He appreciates all the well-wishes and hopes for a speedy recovery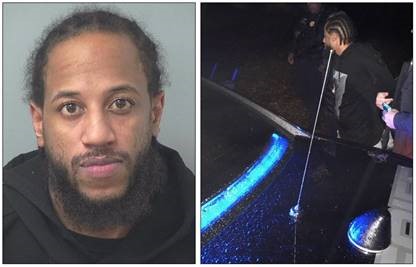 Original, 01/25/2020: (Norcross, Georgia) A Gwinnett County Police Officer and an Investigator from the District Attorney's Office are being treated for injuries after being struck by a vehicle in the Chiquititas Lounge parking lot around 2:30am. GCPD Lieutenant Restrepo and the DA Investigator attempted to stop a man from driving because they believed he was intoxicated in the parking lot located at 4650 Jimmy Carter Blvd, Norcross.
The suspect backed up his van, knocking Lt Restrepo to the ground with the driver's door. The suspect pulled forward to flee the scene, running over the officer on the ground.
Officers from the West Precinct located the vehicle in a nearby residential area. The suspect fled on foot so a perimeter was established and K9 officers were dispatched. The suspect was located and placed under arrest.
The officers were transported to the hospital for treatment. None of the injuries are life-threatening. The suspect was also transported to the hospital. Possible charges at this time are felony obstruction, aggravated assault, and fleeing and eluding.