Volunteer, Donate, Support
Volunteer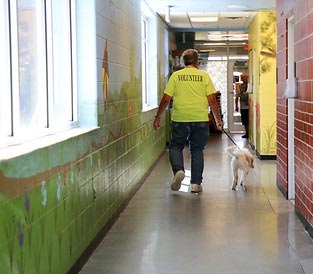 Volunteering at the animal shelter is a rewarding experience! Whether it's doing laundry for fresh bedding, walking dogs, or socializing with cats, your time will help care for animals while in their temporary home. If you have questions, please call the volunteer liaison at 678.226.7213.
To get started, simply visit
Volunteer Gwinnett
to browse ongoing and one time volunteer opportunities at the Gwinnett Animal Shelter. Your time and dedication is greatly appreciated!
Donate
The shelter receives thousands of animals annually. With donations, public education including responsible pet ownership, vaccination clinics, spay/neuter clinics, and animal wellness can be provided.
OR
Make checks (please note Donation) payable to
Gwinnett County Animal Welfare

and mail to:
Animal Welfare and Enforcement
884 Winder Highway
Lawrenceville, GA 30046
Thank you for donating to support the initiatives of the Animal Welfare and Enforcement Shelter. Your generous donations are appreciated and used to provide care for Gwinnett County's furry friends. Monetary donations are tax-deductible under Section 170(c) of the Internal Revenue Code; a receipt will be provided.
Support
All types of items are needed to help care for animals at the shelter. Feel free to stop by during office hours to donate any of the following:



Canned food for kittens, cats, and dogs (pate only; no salmon)
Cat carriers: medium size, hard plastic or cardboard
Large orthopedic dog beds (washable)
Frontline flea control for dogs and cats
Cardboard cat scratchers
EZ Nabber 16"
Dog treats
Cat treats