Pollinator Habitat

Pollinator Info
The importance of pollination!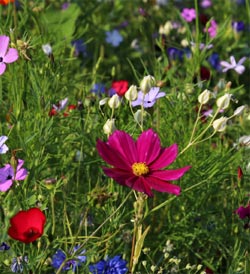 Pollinators provide many services and are critical to our ecosystem. Not only do they beautify gardens and landscapes, but pollinators are vital for successful seed and crop production for the majority of our fruits and vegetables. Pollinators are also essential for many plants and trees.
Insects, birds, and small mammals all contribute to reproduction of wildflowers, crops, shrubs, and trees. In turn, plants and trees are essential for air quality, wildlife habitat, and erosion control that protect our waterways.
Gwinnett Parks & Recreation, UGA Extension Gwinnett, Master Gardener volunteers, and the Georgia Department of Natural Resources are working together to encourage native wildflower growth, provide critical habitats, promote plant pollination, and increase native wildlife populations.
What's a Pollinator?
Pollinators are any animals (insects, bats, small mammals, birds, etc.) that transfer pollen around; this results in fertilization of the plant or tree which produces seeds, fruit, vegetables, and additional plants. Pollinators can move pollen within a single plant, from the stamen to the stigma, resulting in fertilization or they can transfer pollen between plants. Bees and wasps actually consume both nectar and pollen.

The Different Types of Pollinators
Find and identify helpful insects and pollinators in your own garden or when you're visiting Gwinnett's parks.

Pollinator Identification Guide (PDF).

Bees

Native Solitary Bees
Bumblebee
Carpenter Bees
Honey Bees
Leafcutter Bees
Mason Bees
Sweat Bees

Beetles
Birds & Bats
Butterflies & Moths
Flies
Wasps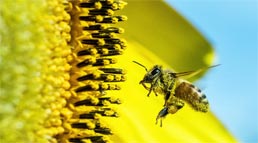 Help Save the Bees
Pollinators are in trouble, population and diversity numbers are decreasing. Scientists are working hard to understand all the reasons for this decline, in the meantime, Gwinnett Parks are helping by planting more and more acreage of pollinator habitats each year. Here are some simple ways that you can help too!
Grow Pollinator Habitats
The easiest and best way to attract pollinators is to plant a variety of trees, plants, shrubs, and flowers in the landscape that bloom throughout the year. Keeping plant choices diverse not only helps provide pollen, but also food, shelter, and nesting to resident pollinators and to those migrating through the area.
What's best to plant?
Choose a variety so that there will be blooms for pollinators in the winter, spring, summer, and fall.
Below are a few choices:
| | | |
| --- | --- | --- |
| Flowering trees | Shrubs | Perennials & Annuals |
| • Dogwood | • Hydrangea | • Chrysanthemum |
| • Magnolia | • Viburnum | • Coneflower |
| • Serviceberry | • Spicebush | • Black-eyed Susan |
| • Redbud | • Bottlebrush Buckeye | • Bee Balm |
| • Poplar | • Azalea | • Blazing star |
| • Willow | • Abelia | • Milkweed |
| • Catalpa | • Witch Hazel | • Honeysuckle |
| • Birch | • Butterfly Bush | • Daisy |
| • Apple | • Lantana | • Sunflower |
| • Pear | • Leatherleaf Mahonia | • Phlox |
| • Plum | • Paperbush | • Crimson Clover |

Avoid Pesticides and Herbicides
Pesticides and insecticides don't know the difference between good and bad insect species. Bees, butterflies, and other insects are some our most important pollinators; using pesticides/insecticides will kill these insects. Herbicides will kill important native plants that pollinators depend on for food, shelter, and nesting.
Build Insect Hotels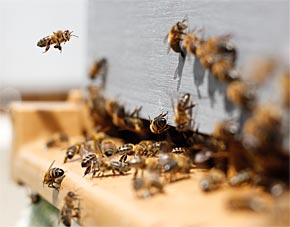 Many native insects lay their eggs in above-ground cavities such as rotting logs, hollow stems, and plan debris. Unfortunately, most of these are cleaned up before the insects hibernate or lay their eggs. Building an insect hotel not only provides shelter and nesting locations for native insects, but can also be an attractive addition to your landscape!
Volunteer – Help us grow!
Volunteer to assist with research through annual pollinator census conducted by GSEPC.org or give a helping hand with planting pollinator gardens in your parks!
Contact us for more volunteer information:
678.277.0900
VolunteerInParks@GwinnettCounty.com
For a list of projects and to sign up:
VolunteerGwinnett.net

Parks with pollinator habitats
Alexander Park, Lawrenceville
Best Friend Park, Norcross
Bethesda Park, Lawrenceville
Bogan Park, Suwanee
Club Drive Park, Lawrenceville
Dacula Park, Dacula
E. E. Robinson Park, Sugar Hill
Harbins Park, Dacula
Holcomb Bridge Park, Peachtree Corners
Isaac Adair House, Lawrenceville
J. B. Williams Park, Lilburn
Lenora Park, Snellville
Little Mulberry Park, Auburn and Dacula
McDaniel Farm Park, Duluth
Rhodes Jordan Park, Lawrenceville
Ronald Reagan Park, Lawrenceville
Shorty Howell Park, Duluth
Sweet Water Park, Lawrenceville
Tribble Mill Park, Lawrenceville
Vines Park, Loganville
West Gwinnett Park, Berkeley Lake
Yellow River Park, Stone Mountain