Veteran & Family Services
Veteran & Family Services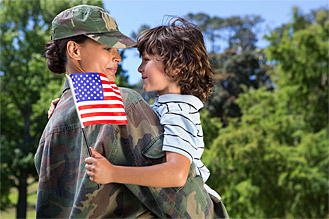 567 Swanson Drive Lawrenceville
770.822.8850 | 678.226.9177
Monday – Friday | 8:00am – 5:00pm
Thank you for your service and sacrifice for your country!
Recognizing, understanding, and assisting veterans and their families' unique needs is essential. Knowledgeable staff with a military background and veteran experience is onsite to help veterans and their families with various needs in collaboration with the Disabled American Veterans Gwinnett Chapter 90.
Completing VA benefit forms
Filing VA claims
Education information
Locate and apply for employment
Assist in locating valuable resources and referrals for
And more!
As a sign of Gwinnett County's deep respect and admiration for those men and women wounded or killed in defense of our country, the Board of Commissioners proclaimed Gwinnett County as a Purple Heart County.
To show deep respect and admiration, the County will:
Fly the Purple Heart flag at the Fallen Heroes Memorial
Encourage residents and business owners to purchase and display purple lights in and around their homes and/or properties
Place Purple Heart County signs at the entrances to the County (in the near future)
Many of our County parks will display a message in support of Purple Heart recipients on the marquee signs at park entrances.
And beginning August 15, the following discounts will be applicable to recipients who show their DD214 discharge papers or Military Order of the Purple Heart membership card:

10 percent discount on park facility rentals
10 percent discount all admissions to pools, open gyms, and tennis centers
10 percent discount on programs/classes
Free pet adoption
Discounted Community Garden Plot through Harvest Gwinnett
Free radon or soil test from Gwinnett UGA Extension
Additional Services
If you need employment, housing, legal, supportive, or other veteran related information or services, consider the following organizations.

These independent organizations (outside of Gwinnett County government) maintain their own websites and operations:

Another Chance of Atlanta
678.974.5989
Housing:

Permanent supportive
Residential
Temporary
Transitional

Supportive services:

Case management
Clothing
Coming Home Re-Entry Initiative
Double Trouble in Recovery meetings
Drug screening
HIV testing and counseling
Housing referrals
Intake/screenings
Medication monitoring
Narcotics Anonymous meetings
Peer support
Personal growth plans
Psycho-social assessments
Recovery day management
Residential management
Resources
United Way Supportive Services for Veteran Families (SSVF)
WorkFirst/Pre-Independent Living Program
Georgia Department of Veterans Service
Lawrenceville office: 404.321.6111
Appeals
Benefits
Education/training
Memorial
Nursing
Women's services


Hire Heroes
Georgia Program Manager
470.280.0812
Free job assistance
Cvilian job employment search for military members, veterans, and military spouses


Hope Atlanta
Antoinette Fields, SSVF Community Relations and Compliance Manager
404.989.5359
Programs of Travelers Aid of Compliance of Metropolitan Atlanta
Employment
Legal
Healthcare Navigation


Lawrenceville Vet Center
930 River Centre Place, Lawrenceville 30043
678.442.3082
Readjustment counseling
Mobile vet center


Make the Connection(U.S. Department of Veterans Affairs)

Veterans Crisis Line
If you are a Veteran in crisis or concerned about one, connect with our caring and qualified responders for confidential help. Many of them are Veterans themselves.
Call 988 and select 1
Text 838255
Start a confidential chat
Call TTY if you have hearing loss 800.799.4889