Monday – Friday: 10:00am – 4:00pm
Saturday: 10:00am – 2:00pm

Gwinnett Historic Courthouse
185 Crogan Street
Lawrenceville, GA 30046
770.822.5450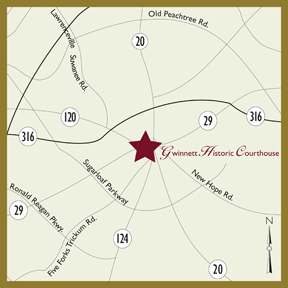 For larger view, please click here.

From Atlanta: Take I-85 North to GA-316, exit towards Lawrenceville/Athens. Take Exit 5, turning right onto GA-120 towards Lawrenceville. Continue 1.6 miles on to West Crogan Street. The Courthouse is on the left.

From Gainesville: Take I-985 to Exit 4, GA-20 (Buford Drive). Turn left onto GA-20, continue for 9.7 miles. Continue on Jackson Street. Turn right onto West Pike Street. The courthouse is on the left.