Fort Daniel Site
Fort Daniel Site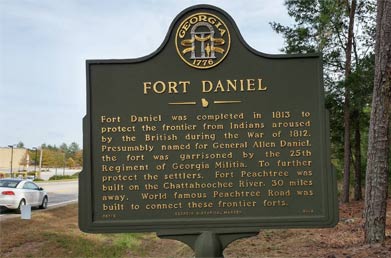 Fort Daniel, the oldest site in Gwinnett County was a fort in the War of 1812 and was constructed as a replacement of a late 18th to early 19th century frontier fort at Hog Mountain community. While the age of the original fort is unknown, the presence of a militia at Hog Mountain is recorded in 1799.
The fort appears on a map in 1796 at the creation of Jackson County. Major General Allen Daniel directed that the old fort at Hog Mountain be replaced in a letter. The replacement fort was constructed in 1813. The site is owned by Gwinnett County and serves as a permanent archaeological research preserve for researchers, historians, and educators.
For more information on the site, visit
www.thefortdanielfoundation.org
.